If you've been following along on The Coupon Challenge Facebook Page, you know that I ordered the Insanity Workout.  There was so much discussion on my Facebook posts that I decided to share with you all as I make my way through the 60-day program.
I ordered the Insanity Workout on Amazon for $144.80 shipped – this is the same price as on the Beachbody website, but I had Amazon gift cards to help lower my OOP expense.  The price does vary on Amazon, so just be aware!
A Bit About Insanity: Shaun T's Insanity workout is designed to be completed in 60 days.  The complete set includes a Elite nutrition guide, calender to track your progress, and 10 intense DVDs.  Each workout keeps you constantly challenged as you alternate between aerobic and anaerobic intervals performed at your max.  One reason I chose this workout is that no exercise equipment is required.  I also liked that I could have a "beachbody" in just 60 days!  We shall see….
I thought Day 1 would be easy peasy.  I mean, all I had to do was watch a short video outlining proper form and do a Fit Test.  How hard could that be, right?  WRONG!  The Fit Test kicked my butt.  Seriously, I had to stop the video 3 times and take a break!
Now, I'm not in bad shape.  I workout 5 or 6 times a week for about 1.5 – 2 hours each day.  My workouts include cardio, weights, floor exercises and stretching.  I can run on the treadmill and bike for miles.  Apparently, I was totally unprepared for 1 minute full-on Power Jumps, Suicide Jumps and Push-Up Jacks.  I was even winded after the warm up for Pete's Sake!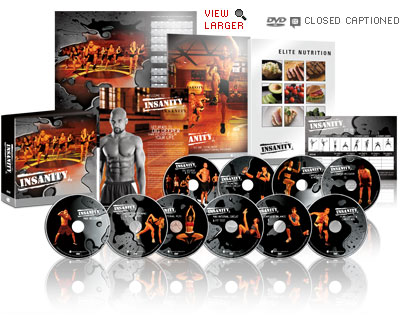 What did I learn from Day 1 besides the fact that I've signed myself up for 2 months of pain?
Set up a small fan in the living room – that ceiling fan just doesn't cut it!
A Towel is totally necessary
Working out in pants and a t-shirt is way too much clothing
It's okay to hit pause, just do what you can and watch your form
WATER!
In addition to the Day 1 DVD, I took my before pictures and measurements and determined my necessary caloric intake for the next 60 days.  I should be consuming 1,900 calories by eating at least 5 meals per day.  That number includes my desire to lose weight (5-8lbs).  There is a pretty scientific formula included in the Elite Nutrition Guide to help determine your needs.  Had I wanted to maintain my current weight, I would have needed 2,400 calories per day!  That just tells you how intense these workouts are!
Tomorrow the actual workout begins with the Plyometric Cardio Circuit – oh my!
Have you tried the Insanity Workout?  Feel free to share you thoughts or journey with us.
Disclosure:  I am not being compensated for this post nor am I affiliated with Beachbody.  I'm just sharing with you my journey to get Fit.