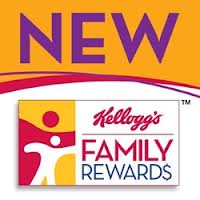 Kellogg's Family Rewards!  Have You Signed Up Yet?
Kellogg's Family Rewards is a great rewards program where you simply redeem codes for FREE High Value Coupons, Gift Cards, Discount Codes, and more.  It's easy and free to Sign up for Kellogg's Family Rewards™. Then you can enter codes, collect points, and earn awesome rewards and family fun! You'll also receive the latest and greatest benefits from Kellogg, like exclusive savings, great-tasting recipes, and special offers and promotions.
You will find these codes on the inside of specially marked boxes of Kellogg's products.  Then simply log-in to your Kellogg's account and enter the 16 digit code.  You will also occassionally receive emails from Kellogg's with bonus codes.  I just received one yesterday for Easter worth 25 points.  They will also have "Double" events where every code you enter is worth double the amount of points.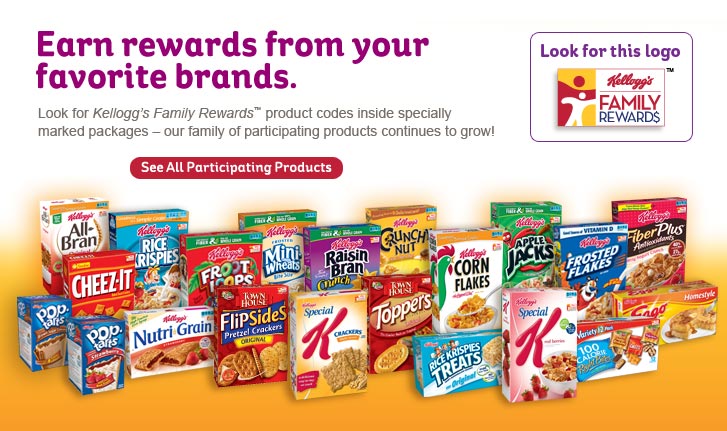 I recently redeemed some of my points for (2) $1.50/1 any Kellogg's Cereal and picked up an awesome deal at Harris Teeter with them.
Here is what I bought:
(2)  Rice Krispies $1.97 each AND receive FREE bag of HT marshmallows with the purchase of one box of Kellogg's Rice Krispies
Used (2) $1.50/1 Kellogg's Cereal
Total OOP: $0.94 for (2) boxes of cereal and (2) bags of marshmallows.
All that for simply entering codes from products that I already buy.  :o)
So what are you waiting for?  Sign-up today and receive 20 points with code HOWITWORKS20PNTS just for joining.
Then here is a list of other codes for you to get started with:
EASTEREGGHUNTFUN =25 points (added 3/27)
2013KFRBonusCode- 50 points (new code added 2/19)
XOXO-XOXO-XOXO-XOXO -25 points
FOODNETMAG50PNTS – 50 points
HOWITWORKS20PNTS – 20 points
KFRFREEGROCERIES – 50 points
KFRNOWONFACEBOOK – 20 points
ENTERDELTASWEEPS – 50 points
ERESUNGANADORHOY – 50 points
EZ25POINTSFORKFR – 25 points
FAVHOLIDAYCOOKIE – 25 points
KFRDELTAENTERNOW – 50 points
KFRFAVPOPTARTS10 – 10 points
MARIECLAIRE50PTS – 50 points
FREEGROCERIESNOW -50 points -added 1/30
kfrgiftofsavings = 50 points
Have Fun & Happy Couponing!