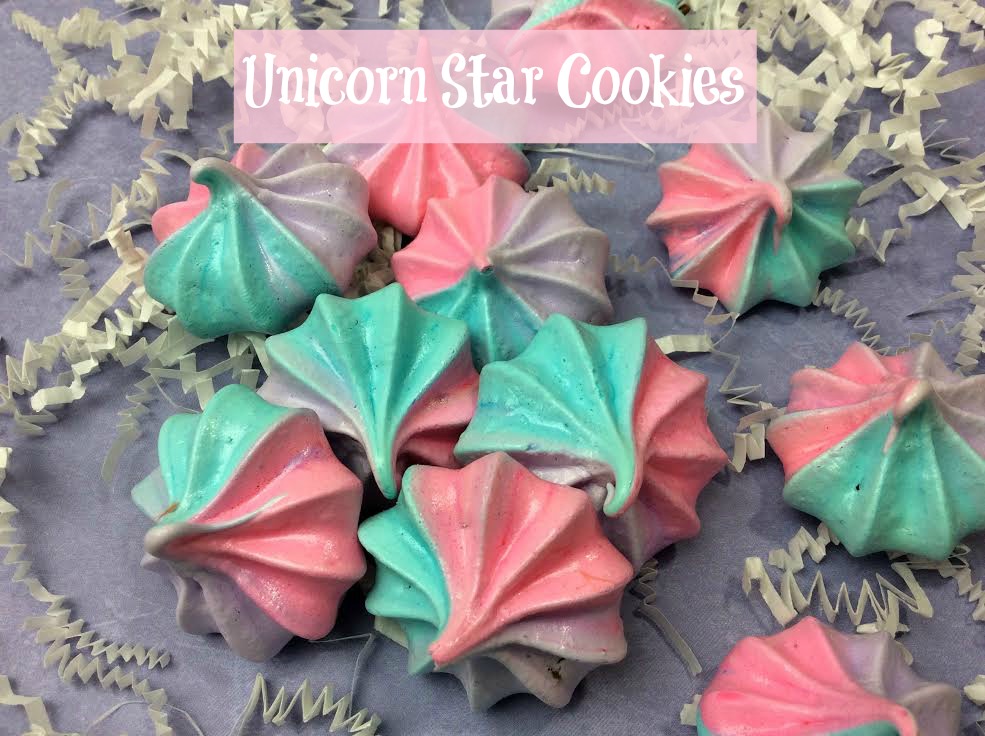 Looking for a treat to make on a rainy day or to take to your child's classroom?  Create these kid friendly Unicorn Star Cookies – the meringue cookies recipe easy, delicious & fun will be the hit of the party.   Even better,  these are gluten free cookies, so you don't have to worry about dietary restrictions.
Ingredients
4 egg whites
1/4 tsp cream of tarter
1/2 C sugar
2/3 C powder sugar
1 TBSP vanilla extract
purple, pink and blue gel coloring
Directions
Preheat your oven to 225 degrees
In a standing mixer, add in the egg whites and cream of tarter.
Mix on medium speed until soft peaks form and then increase to the highest speed setting.
Add the sugar 1 tablespoon at a time first then add 1 table spoon of powder sugar coating until all is combined.
You will want to see stiff peaks form.
Add in the vanilla and mix until combined.
Split batter into 5 bowls
Add blue food coloring into one bowl
Add pink food coloring into the second one
Add purple food coloring into the third one
Using a pastry bag with a star tip, scope some blue meringue into 1/4 of the bag
Add the pink meringue to another 1/4 of the bag
Add the purple to the bag to the final 1/4 of the bag
Pipe on the meringues onto a baking sheet lined with parchment paper.
Making them about the size of a silver dollar and leaving about 1 inch in between the cookies
Bake for 1 and 30 minutes hour
Like colorful treats?  Try this Mardi Gras Doughnuts Recipe and add a bit of fun into breakfast time!