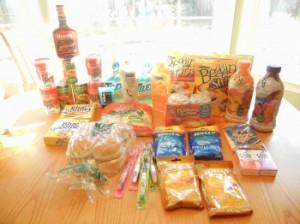 Boy, it's been a busy three days!  Farm Fresh & Harris Teeter held Mega Coupon Events that started today.  Since Farm Fresh released their ad last night, I was able to be at Farm Fresh (with the kids) by 6:30am.  That would normally be unheard of for me with matchups.
I bought salad and buns for dinner tonight plus used an old Tilex coupon to pay $0.79 for cleaner (a bit higher than I prefer) and I used two $2/2 Reach Toothbrush coupons to get the kids toothbrushes for $0.99 each.  That is WAY over my goal price, but I didn't want the coupon to expire and I think my kids eat their toothbrushes 🙂
My best deal was 4 FREE bags of Beggin' Strips.  Bella literally leaped with joy!
Total Paid: $13.05
Total Saved $59.99
I used $4 in CATS
*Look for $1/1 Nabsico belVita tearpad coupons inside your local Farm Fresh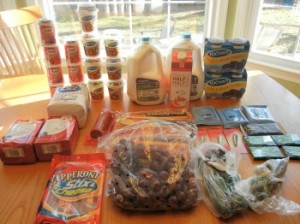 I wasn't as impressed with Harris Teeter this week but I did manage to stock up on yogurt, used my raincheck for Organic Milk, stocked up on bacon and bought a few necessities.  Many thanks to the Hanbury location for finding more M&M YoCrunch for LuLu in the back.  She was thrilled!
I need to go back for a few things that were sold out such as the Garlic Knots, but I doubt I'll have another 20 10 coupons worth of products to buy.
Total Paid: $44.69
Total Saved $62.36
Earned $1 CAT for buying 8 YoCrunch singles
Yes, my total was high but I bought 2 organic milks for $10, 3 bacon, veggies, grapes, 2 Seattle's Best Coffee, sugar, and well, you get the idea.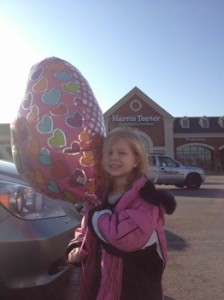 LuLu was a very happy girl when we left Harris Teeter this morning.  If the kids behave in the store, they are allowed to have either a cookie or balloon after we checkout (Harris Teeter provides this free).
LuLu scored the Deal of the Day with her HUGE Valentines Day balloon.  They were getting rid of the balloons that didn't sell yesterday, so all the kids shopping this morning benefited.  All the other balloons were smaller hearts which any kid would think was fantastic, but my little lady really knows how to get a good freebie 😉
How did you do on your shopping adventures?