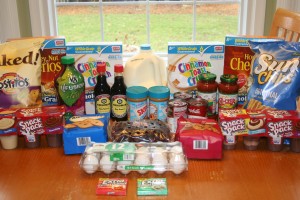 I bought several non-coupon items this week.  Good news is that other than a trip to Harris Teeter for organic milk and yogurt (my Farm Fresh only carries Blueberry Stonyfield yogurt), I'm done for the week. 
I don't have time for my usual breakdown, but everything is the same as the matchups except:
2 FREE Wrigley's Dessert Gum
2 FREE New York Snacks coupon from yesterday (coupon gone)
Milk $3.63
Baked Tostitos $2.50
Sun Chips $2.50
Red Grapes $2.04
Eggs $0.88
Total Spend $23.07
Total Saved $30.58
only 58%
How did you do?