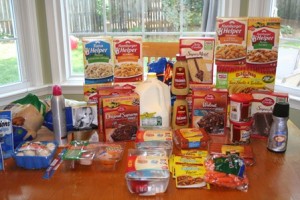 I was giddy opening my paper this morning and seeing $0.79lb Perdue Oven Stuffers.  That is my preferred chicken and under $0.99lb puts me in a happy place.  Silly, I know.  These will feed us for at least 4 dinners each plus cooking in the crock-pot I don't heat up my house with the oven on for 3 hours!
Did you do the Gift Card Promo?  I was at Mt. Pleasant and the Home Depot and Barnes & Noble Gift cards are triggering the $20 CAT!  I didn't have that cash with me, but I hope to go back up tonight with my house fund to buy gift cards.  If you have older kids, you can tuck the i-Tunes gift cards away for Christmas.
You can see all the coupons I used in the matchups
2 Perdue Oven Stuffers $5.93 & $6.27
1 Gallon of milk $4.04 – $1/1 reduced peelie $3.04
1 Doritos $1.99
1 Baby Carrots $0.99
1 Mushrooms $1.50
2 Gulden's mustard $0.60 (step-dad's request)
6 Hamburger Helper $1.94 (donating)
4 Brownies $1.96
2 Cake mix & frosting $1.96
2 OM hot dogs $3.98
3 lunchables FREE (had printable)
2 Taco Kits FREE
4 Taco Seasonings FREE
2 Whiskas Treats FREE
1 Oral-B toothbrush FREE
1 Breve Creamer FREE (free product coupon)
1 Suave Professionals Spray FREE (free product coupon)
1 John Frieda Foam Hair Color FREE (free product coupon)
– $5/$25 purchase email coupon
Total Paid $25.68
Total Saved $68.74
74%
I'm doing shopping for the week since we still have fresh fruit left over from last week.
How did you do?