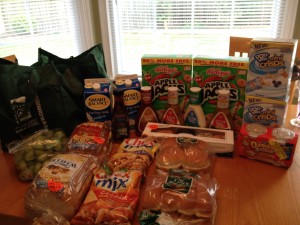 I need to stop taking pictures on my phone, they keep coming out dark.
I stopped at Farm Fresh this morning to purchase some of the sale items and to get a few things we needed.  I was pretty happy to essentially get a gallon of milk for $3.  The Smart Balance has a long expiration date too which is always nice.
Everything is in the matchups except I used a $1 off reduced peelie for the Danimals Crunchers.
*There are 10 Powerades in the 2 bags.
Total Paid: $21.28
Total Saved $26.90
How did you do?