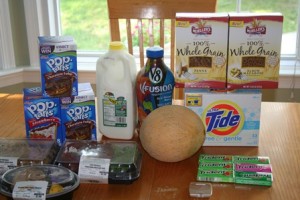 Yay for Farm Fresh!  While there were not as many freebies as I would have anticipated before starting the matchups, there were still a TON of deals.   You'll also notice 3 prepared meals in the picture.  Those are part of a review that I'll be posting this week. Can you guess what we're having for dinner tonight 🙂
Oh a side note, I think my daughter is stealing my coupons.  Seriously, I keep finding them in her room. And I'm missing 2 Tide coupons!  I have a little photo album that I'll be putting together for her "coupon book" so I'll at least know where to find my coupons when they go missing.
Cantaloupe FREE
2 Muellers Pasta FREE
6 trident gum FREE
1 Loreal Eye Makeup FREE
1 Tide Powder $1.99
3 Pop Tarts $3 (plus earned $1 CAT)
1 V8 V-fusion $0.49
FF milk $2.54- $1/1 peelie = $1.54
-$7 CATS from Wednesday
Total Paid $0.01
Total Saved $32.89
100%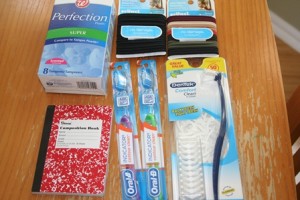 I also went to Walgreens to use my RR's.  I had both kids with me, so I just did 2 simple transactions.  While checking out I was talked into donating $1.  I'm not even sure what I donated to, but my kids have their names on a whole lot of shoes.
Transaction 1
2 Scunci
2 Oral-b
2 Composition mini's (1 was a filler but I had 2 kids with me)
-$0.60 in-ad for comp. books
-$2 oral-b Q
-$6 RR's
+ $1 donation
Total Paid $1.78
Total Saved $15.98
Earned (2) $3 RR's
Transaction #2
1 Dentek
1 W Perfect tampon
-$1 dentek Q
-$3 RR from transaction 1
Total Paid $0.71
Total Saved $6.49
Earned $1.50 RR and $2 RR
Did you shop at Farm Fresh or a drug store today?