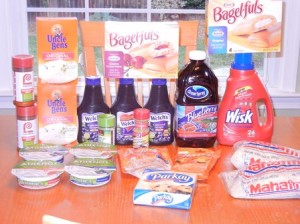 I am so disappointed with my Harris Teeter trip.  First it was crazy in there!  Seriously!  The condiment aisle was insane.  You couldn't move.  In my haste to escape, I grabbed the wrong size Mahatma rice.  The $1.59 and $2.65 must have been mixed up, and I didn't take the time to check (like I should have).  I will be either exchanging or returning it later.  All the condiments on sale was sold out.  At 7:50am!  That has never happened to me before.   
Lastly, I was anticipating a $2 CAT for the Wisk detergent (according to another matchups site) and no CAT.  Sad.
Anyways…
I was informed that the managers at the Hanbury location will be cracking down on DND5 coupons and multiple VIC card use.  Please remember that it is 1 VIC card per household, not 1 VIC card per person!
Get your updated regular price deals here and the sale ad here
2 Mahatma $2.30 (going back)
1 Lawry's garlic salt $0.35
2 Lawry's Seasoned salt FREE
1 Ocean Spray Blueberry $0.12
3 Welch's jelly $2.55 (a staple in my house)
1 McCormick Lemon Pepper FREE
1 Wisk Detergent $1.47
2 Bagelfuls $2.40
1 Parkway Butter $0.09
4 Athenos Greek yogurt FREE
1 Halls cough drop FREE
Total Paid $9.84
Total Saved $46.15 (depressing)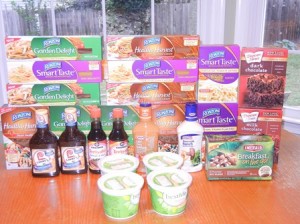 On a good note, I got a ton of freebies at Farm Fresh this morning.  Everything was free except the Emerald to -go was $0.50 and the 2 Kraft Dressings were $0.50 each.
Get your Farm Fresh matchups here
Total Paid $1.84
Total Saved $27.98 (much better)
How was your shopping day?