I ran out to Farm Fresh this morning to see if I could get any of the surprise Triple Coupon deals. My kids have been sick, so I was really bummed I couldn't get to the store til today. I figured all the good stuff would be gone, but I was really happy when I found everything I wanted!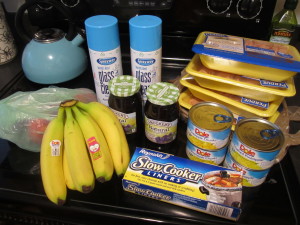 This is what I got:
(4) Perdue 1lb Ground Turkey $3.49
(1) Reynolds Slow Cooker Liners $3.99
(2) SprayAway Glass Cleaner $2.99
(2) Smucker's Naturals Concord Grape $2.59
(4) Dole Pineapple 8oz. $.99
Bananas
Peaches
I used:
(4) $0.75/1 Perdue Product printable or $0.75/1 Perdue Product printable
(1) $0.75/1 Reynolds Slow Cooker printable
(2) $.75/1 SprayAway Glass Cleaner (It was in my "already clipped Red Plum insert" pile…)
(2) $.75/1 Smucker's Naturals  (RP 07/14/13)
(2) $.75/2 Dole Pineapple (SS 06/23/13 R)
I was able to use the $5 off $25 coupon (I asked my cashier very nicely, and she said "I will if the code works . . ." and it did!) and so my total came to about $8.50, a savings of 69%! I also got $.05 off per cloth bag I brought. Every little bit helps 🙂
How have your trips been?
Don't miss the new Farm Fresh Matchups starting tomorrow!