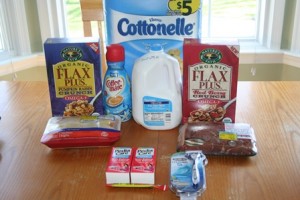 At Harris Teeter I found reduced chicken and steak (looks like we'll be having steak for dinner on Sunday).  I bought 2 Natures Path cereals on sale B1G1 (in 2 transactions) using (2) $1/1 coupons they sent me.  I paid $1 for each box which is my goal price for organic cereal.  I also used a free product coupon for the creamer and bought organic milk.  
I just realized that I was charged full price for the Chicken, so I pulled the stickers off the package to get my refund.
The Natures Path is on sale through tomorrow, 03/08
Total Paid $18
Total Saved $10.08
My total should be around $16
I needed to use $4 ECB's that were expiring, so I ran into CVS and bought a Schick Hydro razor.  The sale ad didn't really thrill me this week.
Total Paid $3.23
Total Saved $7.20
Earned $5 ECB's
Lastly, I popped into Walgreens to look for the free PediaCare.  I found infant fever reducer priced at $6.49.  I bought 2, used the $3/2 printable plus the $5 off in-ad coupon to get both FREE.  These will be great to go with a gift for my sister-in-law's baby shower this weekend.  We were running low on TP, so I used my $3 RR to get the Cottonelle.
I need to find out if I can use the PediaCare Allergy with LuLu.  It is priced at $7.99 making it only $1.50 each.  This is a great price since LuLu takes allergy med. every night.
Total Paid $1.99
Total Saved $16.50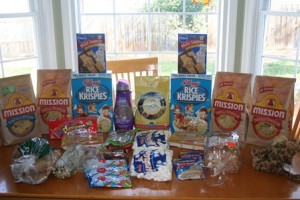 Sorry I didn't get my shopping trips posted from last week.  The Farm Fresh ad is good through tomorrow.  I bought items for dinner & LuLu's cake and used free product coupons for the Purina One Beyond and the Purex Complete.  They still had $1/1 peelies on the Mission chips, so I paid $0.79 for each bag!  I love chips & salsa!!
Total Paid $18.73
Total Saved $35.77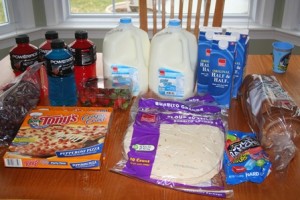 I also made a trip last Tuesday to HT to take advantage of the $2.77 milk special from last weeks sale. The tortillas were only $1.50, grapes $0.99 lb and strawberries were $2.50.  I also picked up Powerade and Jolly Ranchers for the drive to get Bella.
Total Paid $27.23
Total Saved $20.85
I spent more on 2 separate trips to Farm Fresh on Thursday to get items for LuLu's cake.  Overall I've spent a TON of money, but that's what happens when you make a cake from scratch and don't have a clue what you're doing!  Good news:  I'm just under budget for February!