While we were sleeping last night, some e-VIC digital coupons appeared for us to download.  Here are the deals and matchups that you can get.
What are e-VIC coupons?
E-VIC Coupons are electronic coupons and promotions available to you through the e-VIC program. When you purchase the qualifying products and when your purchase meets the redemption requirements of an e-VIC Coupon, the savings are automatically applied to your order. Paperless coupons will be redeemed for face value only and are limited to 1 usage per transaction. The great part about e-VIC coupons is that you can "stack" these coupons with paper coupons to save even more! You must register online to participate in the e-VIC program.
Vicks ZzzQuil (Price Not Found)
Use $1.00/1 Vicks ZzzQuil; Excludes Trial or Travel Size; Limit of 4 Like Coupons Per Household Per Day
Stack with $2.00/1 when you buy any ONE ZzzQuil Product Harris Teeter Digital e-VIC Coupon

Gillette Venus Swirl with Touch Of Olay – Shave Gel, 7 oz., $2.49
Use $0.50/1 Gillette, Satin Care, or Venus Shave Gel; Includes 5.9 oz or Larger; Excludes Trial and Travel Size; Limit of 4 Like Coupons Per Household Per Day
Stack with $1.00/1 when you buy any Satin Care OR Venus Shave Gel (excludes 2.5oz and trial/travel size) Harris Teeter Digital e-VIC Coupon
Final: $0.49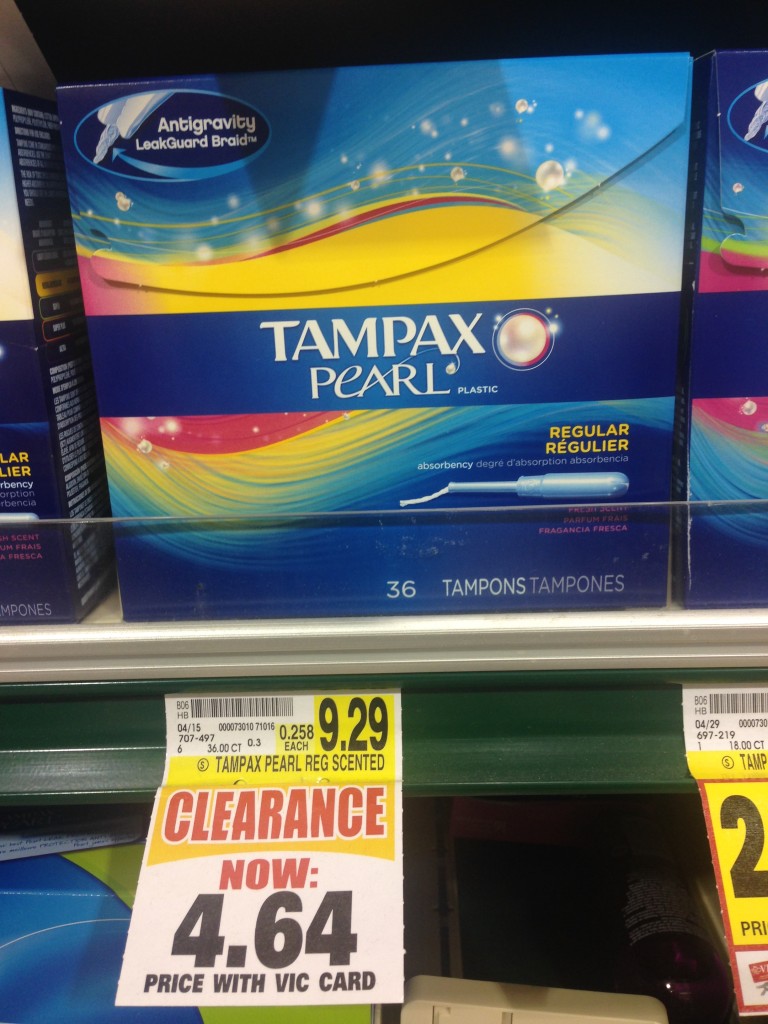 Tampax Pearl, 36 ct., $4.64
Use (2) $0.75/1 Tampax Pocket Pearl Product; Includes 18 ct or Higher; Excludes Pearl Liners, Trial and Travel Size; Limit of 4 Like Coupons Per Household Per Day
Stack with $2.00/2 Tampax when you buy any Tampax Pearl or Radiant Tampon(16ct or higher) (excludes trial/travel size) Harris Teeter Digital e-VIC Coupon
Final: $2.14 each
Secret Clinical, 1.6 oz., $7.97
Use (2) $2.00/1 Secret Clinical Invisible Solid or Clear Gel Antiperspirant/Deodorant; Excludes Trial or Travel Size; Limit of 4 Like Coupons Per Household Per Day
Stack with $5.00/1 when you buy any Secret Clinical products (excludes .5oz and trial/travel size) Harris Teeter Digital e-VIC Coupon
Final: 3.47 each
Vicks QlearQuil, 24 ct, $8.99
Use $1.00/1 Vicks Qlearquil Product; Excludes Trial or Travel Size; Limit of 4 Like Coupons Per Household Per Day
Stack with $2.00/1 when you buy any QlearQuil Product (excludes 24 Hour Product 30-45ct and trial/travel size) Harris Teeter Digital e-VIC Coupon
Final: $5.99
Pampers Swaddlers, jumbo pack, $9.99
Use $2.00/1 Pampers Swaddlers Diapers (Zip Code 77477); Excludes Trial and Travel Size; Limit of 4 Like Coupons Per Household Per Day
Stack with $3.00/1 when you buy any Pampers Swaddlers or Swaddlers Sensitive Diapers (excludes trial/travel size) Harris Teeter Digital e-VIC Coupon
Final: $4.99
Pampers Swaddlers, jumbo pack, $9.99
Use $2.00/1 Pampers Baby Dry Diapers (Zip Code 77477); Excludes Trial and Travel Size; Limit of 4 Like Coupons Per Household Per Day
Stack with $3.00/1 when you buy any Pampers Baby Dry Diapers (excludes trial/travel size) Harris Teeter Digital e-VIC Coupon
Final: $4.99

Gillette Series Shave Foam, 9 oz. $3.49
Use $0.50/1 Gillette, Satin Care, or Venus Shave Gel; Includes 5.9 oz or Larger; Excludes Trial and Travel Size; Limit of 4 Like Coupons Per Household Per Day
Stack with $2.00/1 when you buy any Gillette Fusion Family Shave Gel (excludes trial/travel size) Harris Teeter Digital e-VIC Coupon
Final: $0.99
Bounty Paper Towels, 6 ct., $9.99
Use $0.25/1 Bounty Paper Towel; Excludes Trial and Travel Size; Limit of 4 Like Coupons Per Household Per Day
Stack with $1.00/1 when you buy any Bounty Towel 6 Roll Pack or larger (excludes trial/travel size) Harris Teeter Digital e-VIC Coupon
Final: $8.49
CoverGirl Eye Enhancers Shadow Brown Smolder, 0.09 oz., $2.49
Use $1.00/1 Cover Girl Product – 5-3-15 PG; Excludes Trial and Travel Size and Accessories; Limit of 4 Like Coupons Per Household Per Day (exp 05/30/15)
Stack with $1.00/1 when you buy any CoverGirl Product (excludes trial/travel size) Harris Teeter Digital e-VIC Coupon
Final: $0.49
CoverGirl Professional Remarkable Waterproof Mascara, 0.3 fl oz., $4.11
Use $1.00/1 Cover Girl Product – 5-3-15 PG; Excludes Trial and Travel Size and Accessories; Limit of 4 Like Coupons Per Household Per Day (exp 05/30/15)
Stack with $1.00/1 when you buy any CoverGirl Product (excludes trial/travel size) Harris Teeter Digital e-VIC Coupon
Final: $2.11