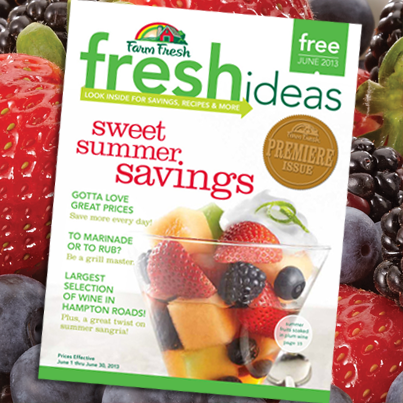 Farm Fresh has rolled out a new month Fresh Ideas magazine that will be filled with coupons, tips, recipes, month-long savings, and more. It's free and will be available at all Farm Fresh stores.
Fresh Ideas will be published monthly, with each new issue including a variety of coupons, month-long price savings, seasonal tips, recipes, and more. The publication will feature Farm Fresh's local food expert, Chef Bob Hirasawa, who will offer his recommendations on everything from cooking tips to recipes to food pairings. For example, this month's version offers tips for how to choose between marinades and rubs, as well as offering personal recipes favorites like fresh tomato and cucumber salad, marinated ribeyes and "Chef Bob's summer fruit" specialty.
All coupon matchups assume shopping on Wednesday during $1 doubles:
See more Farm Fresh Supermarket Deals!!