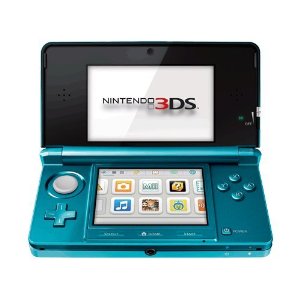 Have your kids been asking for the new Nintendo 3DS?
The moment advertisements started for the 3DS, it was on the must-have list for my 7-year.    He even started saving his allowance to purchase one – granted it would have taken a year or more to purchase on what he makes a week 😉  Luckily, Nintendo gave us the opportunity to try it out!
The new Nintendo 3DS is awesome!  I can't think of a better way to describe the hot new gaming system.
Everyone has enjoyed playing the Nintendo 3DS, even myself!  The kids have to set a timer to limit their playtime and to know when it's time to trade.  My husband even gets in on the action and likes to take a turn each evening.
A few of the great features:
Play games in 3D without glasses! The ability to play the game in 3D absolutely amazes me
3D Depth Slider lets your determine how much 3D you want to see
Ability to turn off the 3D mode for young children (3D not advisable for children under 6 years)
Play DS games in the 3DS (in 2D)
3D camera to include merging 2 photos into 1 & many more effects
Internet access
Pedometer to track steps
Mii MakerTM application
Watch Netflix
See additional features here
We als0 reviewed the Pilotwings Resort & Nintendogs + Cats: Toy Poodle and New Friends games.  I would definitely recommend the Nintendogs+ Cats for a little girl.  It's easy for her to play and works well with the 3D option turned off. Surprisingly, Monkey even enjoys playing the Nintendogs+ Cats game.  It provides enough of a challenge to keep him entertained while featuring cute and fuzzy cats and dogs.
The Pilotwings Resort game is also a hit.  The jet pack and hang gliding seem to be the favorites.  Pilotwings Resort is different from most of the games my children own which seems to make it more appealing.
Overall, we have been thrilled with the new Nintendo 3DS.  I would definitely recommend the game system.  Christmas is coming up, so I would expect to see sales to help you get the new 3DS for even less.  The current price is $169.99 but includes a significant amount of features for the price.  I foresee the 3DS lasting many years as my children grow.
Can't see the video? Click here.
*This is a video from the perspective of a 7-year.
Disclosure:  I received a Nintendo 3DS and the games mentioned above to review and keep.  No other compensation was received.  All opinions are 100% my own and my differ from others.