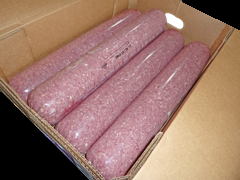 Super Lean Ground Beef Still Available! 

I'm super excited about Zaycon Foods bringing Beef back to Hampton Roads! I've been pleased with the chicken and can't wait to get more beef for my freezer!
The price is….
$3.49lb (40lb case)
The total for 40lbs of beef is $139.60 plus tax.  Yes that is expensive but half a case lasted me almost 6 months!  Plus not having to drain the meat for taco's or having the grill catch fire when cooking burgers from all the fat dripping is priceless

TIP:  When you are splitting the beef for freezing, take time to pre-make hamburgers and meatballs.  This will save you a ton of time later.  You can also cook up seasoned beef in bulk for tacos, enchiladas and other dishes.  I can't tell you how much time it's saved me by having these items ready in my freezer!
Orders must be placed before August 5th. PLEASE note that they recently sold out of chicken, so I wouldn't delay if you're interested in trying the beef.
• Fresh, Premium, Fine Grind 93/7 Super* Lean Ground Beef
• Comes in a 40-lb case with four 10-lb chubs per case (approximate weight–see note below)
• No chemicals, additives or water added to meat during processing
• Processed at a USDA-inspected, state-of-the-art plant employing strict operating protocols (including HACCP) and the highest in food-safety standards
• Prior to processing, inspectors from the USDA Food Safety and Inspection Service randomly sample cattle under a monitoring plan and perform testing for antibiotic residues
* USDA nutrition labeling standards defines "extra lean" and "lean" ground beef based on the lean/fat ratio. While not part of these guidelines, the term "super lean" is often used in the grocery sector to describe ground beef at the upper end of the "lean" category (i.e., "Zaycon Foods 93/7 Super Lean Ground Beef"). This ground beef product is 93% lean and 7% fat
[NOTE: This product is an approximate weight. Some cases will weigh slightly less than 40 lbs. Customers receiving cases less than 40 lbs will receive an exact credit representing this difference in their ZF account.]
Local Events:
Tuesday, August 06, 2013
8:00 am – 9:00 am
Landstown Community Church
3220 Monet Dr.
Virginia Beach, VA 23453
Monday, August 05, 2013
5:00 pm – 6:00 pm
#1 – Oak Grove Baptist Church
2635 E. Washington St.
Suffolk, VA 23434
Friday, June 21, 2013
2:30 pm – 2:45 pm
River of Love Ministries
2206 E. Hundred Rd.
Chester, VA 23836
**The event will likely sell out, so order now.
Make sure to sign up (if you're not already) so you can be notified when the next event takes place.