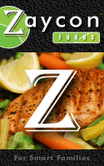 Buying in bulk is a great way to save money.  The more you purchase, the less money you pay per pound.  Zaycon Foods offers a unique program to help your family save on possibly the most expensive part of your budget – Meat.
Zaycon Foods purchases in bulk straight from the Farm and brings the savings to you, literally.  Zaycon Foods doesn't have brick and mortar stores, instead they hold events to distribute the meat saving you money.
A great feature of Zaycon Foods is that the chicken (and other meats) you receive are FRESH.  And when I say FRESH, I mean straight from the farm to your kitchen.  The chicken usually arrives to the event within 2-3 days of leaving the farm.  I'd say that is about as fresh as you can get unless you're chummy with your local farmer.
Zaycon Foods bulk chicken is also 100% All Natural with no added hormones, additives or artificial ingredients.  I can't tell you how delighted I am to find affordable chicken without hormones and artificial ingredients.  As I strive to move my family towards more natural foods, it's good to know that quality meat is in my budget.
Moreover, the taste is fantastic!  My entire family (excluding Monkey who doesn't like chicken) has enjoyed our meals.  I am looking forward to trying more recipes with our fresh, natural chicken.  So far, we have used the Zaycon Foods chicken in the crockpot for Rosemary Chicken and baked in the oven with a little bit of spices.  Yum!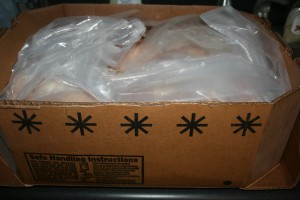 The chicken is sold in a 40lb case. Yes, that is A LOT of chicken.  It is why you are getting such a good price.  Inside each case is four (4) 10lb bags of fresh boneless, skinless chicken breast.  There is a bit of work involved as the chicken is pre-butcher, so you must cut the breast in half and trim the fat.  From box open to chicken in the freezer, my time was 45 minutes.
How does a Zaycon Foods Event work?
Zaycon Foods is currently expanding their business.  After being hugely successful in the Midwest, they are branching out into the rest of the country.  Once enough people have registered in an area, an event will be scheduled. All registered members will receive an email with the event information including the price.  Since you are getting chicken straight from the farm, prices will vary based on demand.  Price per lb will range from (on average) $1.49-$1.69!  That's about $60-$70 per case.
If you choose to participate in the event, you will place your chicken order online.  Chicken is brought into the area by pre-order only.  One event day, you simply drive to the event location, confirm your order and your chicken will be placed directly in your vehicle.  I think of it as drive-through chicken.  It's inexpensive and convenient!
How do you prepare the chicken for freezing?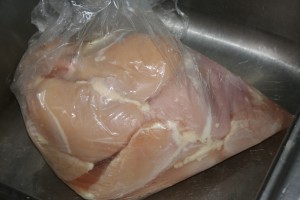 1.  Each box contains four 10lb bags.  If you would like to split the order with a family member or friend, you would simply each take a bag or 2 from the box.  However, do not freeze the chicken in the bags!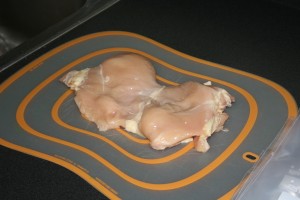 2.  Cut the breast in half and trim the fat.
3.  Place chicken breasts into gallon size freezer bags.  The amount of chicken you place in each bag will depend on the amount needed to feed your family 1 meal.  I placed 3 cut breasts in each bag.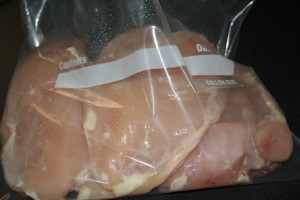 4.  Remove air from the bags and store in freezer.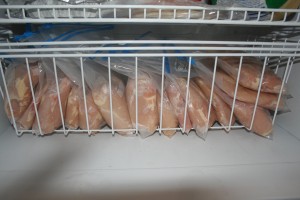 I had 15 bags of chicken which will feed my family of four at least 15 meals with leftovers!
Sign up for Zaycon food emails to know when an event will take place in your area.  Make sure to tell your friends, family and co-workers to sign up as well.  The more people to sign-up, the more likely an event will be scheduled in your area.  This is the 1 time I actually suggest not using your coupon email address.  You will want to be notified when a Zaycon Food Event will take place in your area.  At that time, you can decide if you want to take part in the event or wait until the next event.  Signing up doesn't obligate you to a purchase.  It only informs you when an event will be in your area and the price per lb.  I was told that they strive to hold an event in each area about once per quarter.  That's only 4 chances per year to score a fantastic deal on 100% All Natural chicken.
Can't see the video?  Click here
And if you aren't already convinced, I thought the Zaycon Foods Product Warranty and Customer Satisfaction Policy were quite a selling point in themselves.
PRODUCT WARRANTY
We warrant that all food products sold and delivered by Zaycon Food will be of acceptable quality, fit for consumption and free from spoilage and damage. To this end, we ask each customer to open and inspect each case of product the same day they receive the product from Zaycon Foods. If, upon close examination of the contents, the customer finds the product to be of unacceptable quality, we will arrange the return of the partial or complete order and will refund the payment accordingly.
CUSTOMER SATISFACTION
One of the four values that forms the foundation of our operations is exceptional customer service. Our goal is to have every customer be a satisfied customer. In the rare instance where there are product or delivery issues, we ask our customers to please inform us of the issue (typically via email) so that we might have the chance to fully correct the issue and to restore their confidence in our company.
Let me know if you have tried products from Zaycon Foods.
Disclosure:  I received a case of chicken to review and keep.  No other compensation was received.  All opinions are 100% my own and my differ from others.