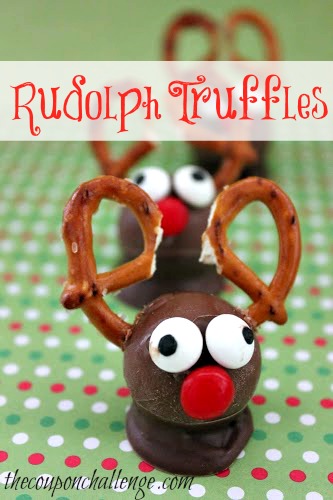 How cute are these Rudolph Truffles?  You don't need a lot of ingredients, so these treats will be easy on your budget.  I think they would be perfect to take to a child's school Holiday party.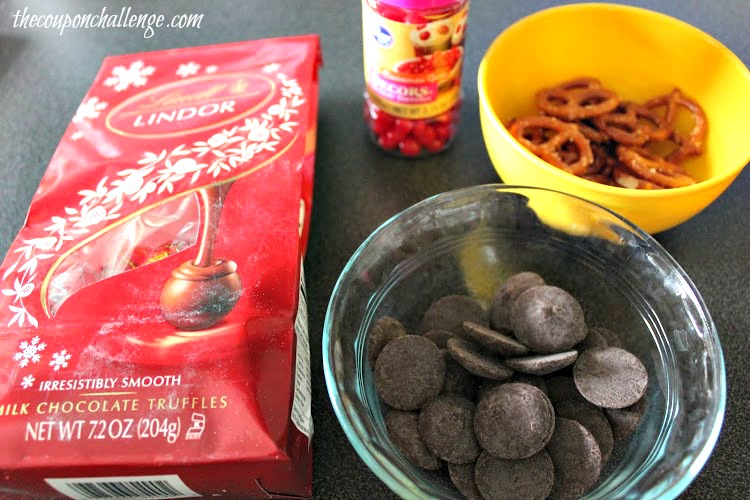 INGREDIENTS
12 Chocolate Truffles
1/4 cup Light Cocoa Candy Melts
24 Candy eyes
12 Red Round candy Decorations
12 Pretzels broken in half
DIRECTIONS
Using a toothpick, poke holes on each side for Pretzel antlers.
Heat Candy Chips in large bowl by microwaving for 30 seconds stirring and repeating until melted.
If Truffles are not flat on bottom, dip bottom of truffle in chocolate and place on wax paper.
Allow to set.
Using toothpick, gather up small bit of melted chocolate and paint on back of red "nose" and place on truffle. You may need to hold in place for a moment.
Repeat this process with each eye.
Allow chocolate to set.
That's it. Enjoy!
Looking for more recipes? How about my White Chocolate & Cranberry Blondies Recipe!