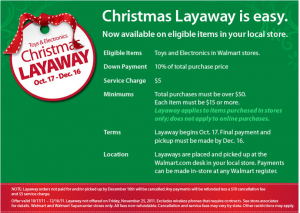 Walmart is bringing back Layaway to help you with your Holiday shopping. Christmas Layaway is available starting October 17th with final payment and pickup by December 16th.   This should help avoid the last minute shopping if you're still working to save money for all those Holiday gifts.
A few of the details:
Christmas Layaway from Oct. 17 until you make your final payment and pick up your items by December 16, 2011.
Each item must be $15 or more and your total purchase must be over $50.
There is a $5 service charge.
You can make payments on your Christmas Layaway items at any register in your Walmart store.
Christmas Layaway is not offered on Friday, November 25, 2011 and is not offered on wireless phones that require contracts.
Get all the Walmart Layaway details here
Thanks, I Heart the Mart!