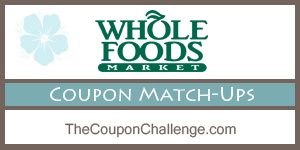 Whole Foods Market Mid-Atlantic region coupon matchups are complete! Please visit the Whole Foods Mid-Atlantic coupon matchups page for a complete list of deals! Make sure you are viewing the tab for the correct date.
Accepts 1 manufacture coupon per item
The Virginia Beach store allows coupon stacking – 1 manufacture and 1 Whole Foods store coupon per item
Whole Foods store coupons found online and in the Whole Deal Booklet in-store
Go digital with the New Way to Save at Whole Foods Market
Case Discounts of 10% off anything you can purchase by the case – 10% savings before coupons *inform cashier you are purchasing a case to ensure you get the discount!
Purchase the Whole Foods Market 2017 Calendar for more coupons
Bring your reusable shopping bag to receive 5¢ off per bag
See the Whole Foods Coupon Policy
Mid-Atlantic Region = DC, KY, MD, MRL, OH, PA & VA
New to shopping Whole Foods? Read my post How to Save Money at Whole Foods Market.
Condiments, Spice & Baking
365 Everyday Value Organic Chia Seeds, 15 – 30 oz – 20% OFF
In: Black and White
Cookies, Snacks & Candy
Lundberg Family Farms Rice Chips, 6 oz – $2.00
Diet Food & Drinks
NeoCell Acai Berry Biotin Bursts, 45 ct – $15.99
Final Price: $13.99
Rainbow Light Probiolicious Probiotic Gummies, 50 ct – $14.69
Frozen Foods
$25+ PurchaseIncludes: Meat & Poultry. Fresh and Frozen
Meat, Poultry & Fish
Beef, London Broil, per lb – $4.99
From USA
Beef, Top Round, per lb – $4.99
From USA
Shrimp, Raw, 26 – 30 ct, per lb – $9.99
Peeled & Deveined. From Thailand.
Produce
Onions, Sweet, per lb – $0.99
From Georgia. Excludes: Organic
Raspberries, Fresh, 6 oz – $2.50
From Mexico. Excludes: Organic
Final Price: $2.00
Buy 2; Use $1.00/2 digital coupon from Whole Foods App. Valid 5/17 – 5/23.