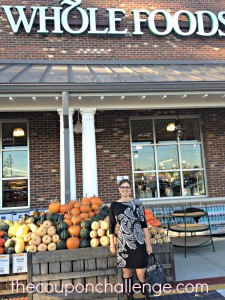 A new Whole Foods Market opened in my area today.  I was treated to a sneak peak and learned all about the different departments and (of course) how to save money.   Let's face it, Whole Foods is an expensive store.  You could easily blow your budget in this mecca of food.  One of the ways I plan to shop at Whole Foods is to continue saving money on other aspects of my budget.  Don't pay for toothpaste so you can shop at Whole Foods 🙂
1.  Avoid multiple shopping trips.  This rule applies for all types of shopping. The more often you shop, the more money you will spend.  Consider a bi-weekly or monthly trip to Whole Foods unless there is a sale that you just can't miss.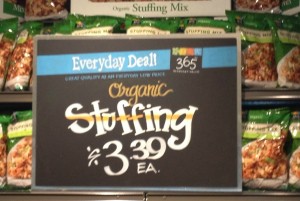 2. Purchase 365 Brands also know as "Sure Deals."  The 365 Brand is the Whole Foods Market store brand, so you will save money by purchasing this brand over a competitors.  365 offers the best quality and the best value every day.  Look for a blue label to find these products fast.
3.  Watch for sales.  Whole Foods Market offers weekly specials throughout the store.   Plan your menu around and stockpile these savings to maximize your budget.  You can find the sale products with a yellow label.

4.  Shop the Daily Deals.  On Wednesday's you get the opportunity for a Hot Deal and Friday's offer a One Day Deal.  One Day Deals range from B1G1 soups to a free bar of soup when you bring in a bar of soap.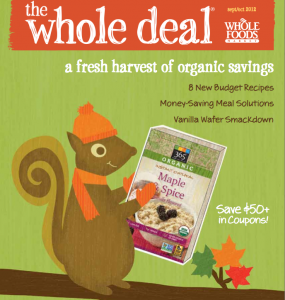 5.  Use coupons.   Coupons can be found online at WholeFoodsMarket.com or in the "Whole Deal" coupon booklet located at the front of the store.  Coupons include savings on 365 Brand products and major manufacturers.
6.  Buy a case to save 10% on your purchase!  A case typically consists of 6, 12 or 18 items.  You can receive a case discount on any item except beer.  Stack the case discount with a coupon to save even more.  Example:  Purchase 12 Stonyfield yogurts (mix and match flavors) on sale, save 10% plus use a coupon from the "Whole Deal" coupon booklet to maximize your savings.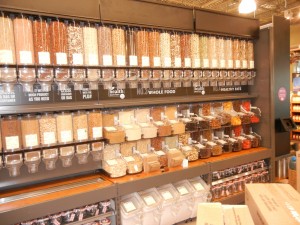 7.  Shop the value bin for additional savings.  The Value Bunker in the seafood department has your best money-saving seafood deals everyday.  You can also "scoop your own items" to save money by purchasing only the amount of a product you need instead of buying an entire bottle or container.
8.  Sign up for the Whole Foods Market Newsletter to keep up with store news and weekly sales plus get exclusive offers and coupons.
9.  Use your reusable shopping back to save 5¢ per bag.  This can add up a nice savings over time!  You also have the choice of donating that nickel to one of two non profits each quarter!
10.  Sample before you buy.  Whole Foods Market allows you to sample products in-store before you buy.  Not sure if you'll like a pomegranate or those Cheese Curls?  Ask a team member to provide you with a sample.  There is also a 100% Money-Back Guarantee.  If you're not satisfied with your purchase, bring it back to exchange or get your money back.
While Whole Foods Market could drain you're budget, follow these steps to make the most out of your shopping trip.  Whole Foods Market has provided you with numerous opportunities to feed your family well for less, so take advantage of it!
If you're new to shopping at Whole Foods, you can take a peak at my local store to see all the departments and goodies that Whole Foods Market offers!
 How do you save money shopping at Whole Foods?