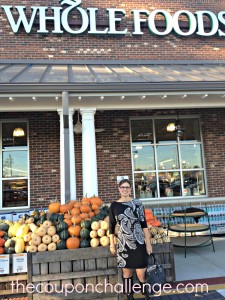 Last night I was treated to a sneak peak of the new Whole Foods store in Virginia Beach opening at 10am on Wednesday, October 24th.
Whole Foods Market is the world's leading natural and organic foods supermarket and America's first national certified organic grocer.  I have to say, the store is absolutely gorgeous! One walk through this impressive mecca of food and I'm hooked!
First Glance
I was awestruck pulling up in front of the massive 40,000 square-foot building.  The wide, covered front porch is filled with overflowing boxes of multi-colored pumpkins, gourds and squash.  You feel like you're walking into Fall as you step into the much anticipated Virginia Beach location.  Just inside the front doors is a dramatic display of blooming orchids.  These local beauties almost made me want to try to (not kill) another orchid, almost 🙂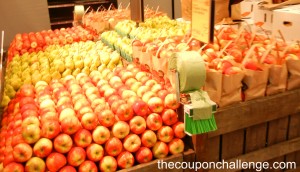 Product Department
Beyond the orchids are gracefully displayed towers of fruit and vegetables perched on top of salvaged and refurbished wood. The store boasts 200 organic produce varieties and over 60 local produce (from within a 100 mile radius!)  In addition to the fresh produce, you can purchase pre-cut organic fruit which is definitely a first for our area.  Make sure to take a moment to talk with one of the healthy eating specialists to get your healthy eating habits on the right track.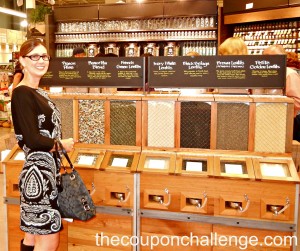 Cooking Department
Just past produce is one of my favorite locations in the store – the Cooking Department featuring Luke, the Whole Foods Cooking Coach.  I've already decided he is going to be my new BFF (he just doesn't know it yet!)  If you find a product in the store you'd like to try or notice a great sale but aren't sure how to prepare it, Luke has you covered with recipes and tips to make your meal a success.  You can even send an email asking for cooking advice!  See, I'm not the only one who wants to be buddy-buddy with Luke!
Whole Foods wants you to have fun cooking, so they offer 315 scoop your own items.  Want to try curry in a dish, but don't need an entire bottle?  Save money and purchase just the amount for your recipe.  It's brilliant!

Seafood Department
The seafood department is up next on the tour. Fresh seafood will be delivered 6 days per week (7 days for the first few weeks) including local fish and shellfish.  The seafood department displays 3 color codes for their fish.  Red (source of wild depleted), yellow (wild source moderate) and green (plentiful in the wild).  Whole Foods Market doesn't sell fish in the red category.
All farm facilities are verified and are MSC certified to know where the fish are coming from.  My husband was thrilled upon learning Whole Foods takes such pride in knowing the safety of their seafood.  I am no longer allowed to shop elsewhere for seafood, seriously.
Want to get more out of your seafood purchase?  Have your purchase cut, cleaned, steamed and marinaded complementary before leaving the store.  You can also get recipes on how to prepare your purchase at home.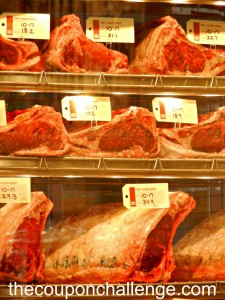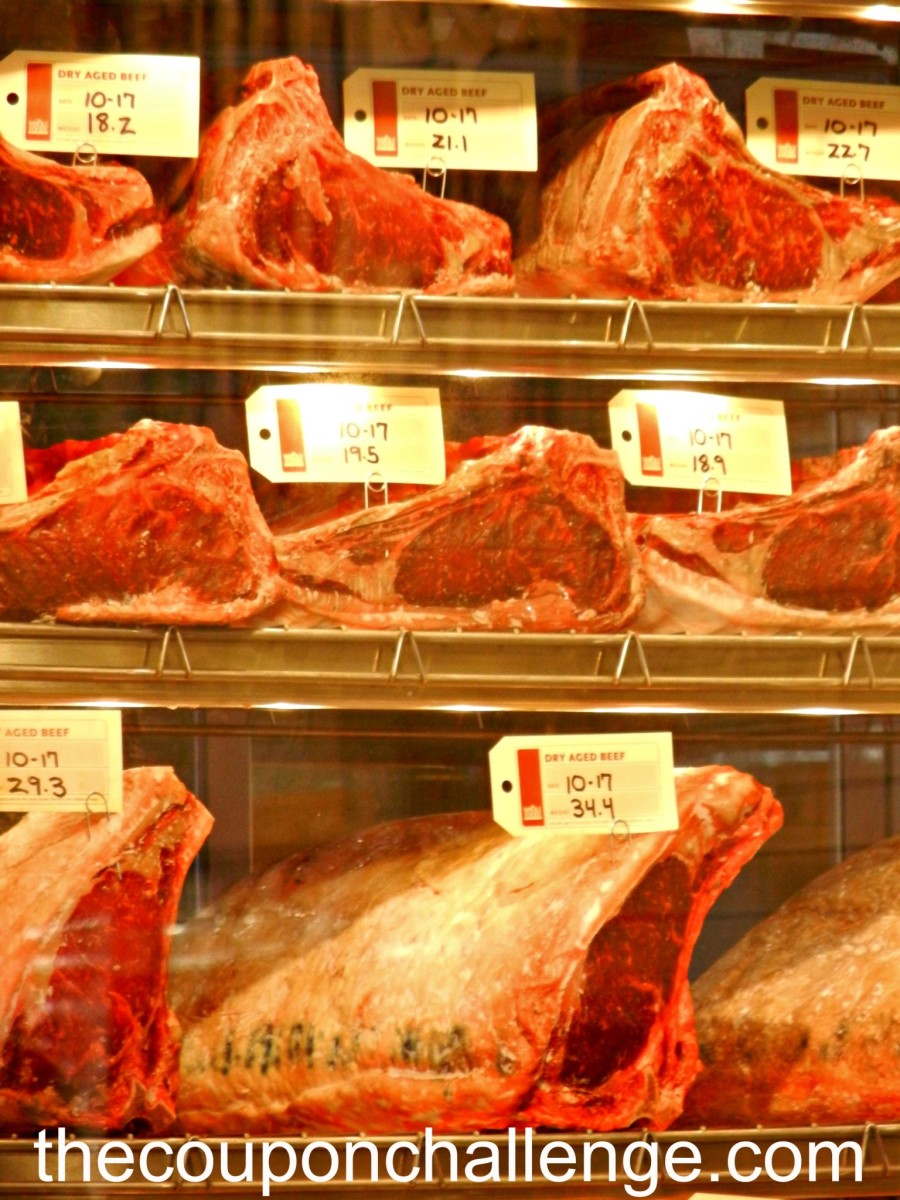 Meat Department
The meat department is a carnivores dream come true!  There is a 5-step Animal Welfare rating.  I was fascinated by the attention to detail and treatment of the animals.  My husband desperately wants to try steaks from the Dry Aged Beef Case.  I plan to cook him a special birthday meal next month (and hopefully not ruin the expensive steak in the process!)  The first batch of meat will be ready on opening day.  Arrive early – this is sure to sell out quickly.
Need a turkey for your Thanksgiving meal?  Whole Foods has selection of gobblers to suite your needs at reasonable prices.  Orders can be placed starting opening day or online.  Please note that supplies are limited.
Cheese, Wine and Beer Department
I am a wannabe cheese and wine connoisseur.  Whole Foods Market has a huge selection for all tastes and budgets:
Over 300 types of cheese from all over the world.  Some local items made specifically for the VA Beach location
Over 30 wines from Virginia
Over 400 beers to tempt any beer lover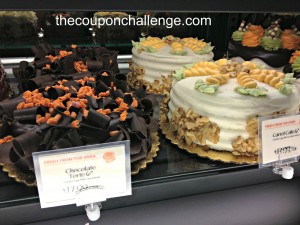 Bakery Department
Oh my!  I gained 5lbs just drooling over these treats!  Cakes, cupcakes, cookies, tarts and more will tempt your taste buds.  Special dietary products are also offered such as Kosher and Gluten-free.  Need a cake for a special occasion?  Let Whole Foods Market bakery create a cake for your big day.
Whole Body Mini Store
The health and beauty section offers soaps, vitamins, and supplements with no artificial coloring, chemicals, or animal testing. You can even make you're won bath salts and scrub!
Join the 365 Vitamin Club to earn savings on future vitamin purchases.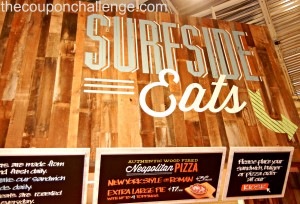 Prepared Food Department
The chefs in the Prepared Food Department have a passion for food.  You can find 4 bars (soup, chef inspired, seasonal salads and an organic salad bar.) Visit the deli which includes a made-to-order sandwich bar, fully cooked prepared dishes, sushi or Surfside Eats for grass-feed beef burgers, hotdogs and wood fire pizza.
The prices appeared to be similar to others stores that offer a lower quality of food.  Pizza by the slice is $3.49 which is comparable to other retailers.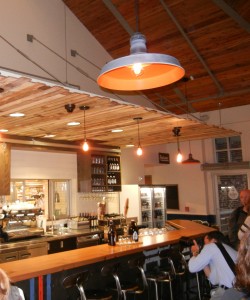 The Porch
The Porch includes an organic coffee bar and the Pub which focuses on local, craft and seasonal beers.  The Pub includes 7 local beers and 1 local cider on draft.
Draft pints and glasses of wine are sold for $3-$5.  Stop in during Happy Hour on Monday-Friday from 4-7pm to save $1 on your pint or wine glass! The porch includes 47 seats in addition to 37 seats in the outdoor cafe and 40 seats in the cafe.  Save time to grab a beverage and a snack during your Whole Foods Market visit!
All this and I didn't even stroll the aisles of the canned, jarred and boxed foods!
One of the Whole Foods Market values that surprised my husband and I is the dedication to the environment and fair treatment of animals and people in developing countries.  Purchase a Whole Trade brand product and 1% of the sale is donated to women in need.  Donations accepted during the sneak peak tours are being sent locally to New Earth Farm.  Not only are products from New Earth Farm sold in Whole Foods, but the farm teaches kids where their food comes from.  I plan to look into this program for my children.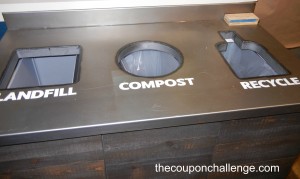 It's also interesting to note that only 10% of Whole Foods Market waste is sent to the landfill – 10 percent! Waste is turned to compost in-house as well as recyclable materials are sent back to the main store in the empty delivery trucks.  A daily donation is made to the food bank, so others can benefit from a slightly bruised peach or loaf of bread.  Bring in your #5 plastic (think yogurt cups) and wine corks to be recycled by Whole Foods Markets free of charge.
In addition to all the delightful culinary experiences, the store offers free Wi-Fi and grocery carrying assistance as well as knowledge team members and expects in each department.  Not to mention an electric car charger and fresh ice maker in the parking lot!
There are a ton of promotions during opening week.  Tomorrow will include a Seafood Circus in the parking lot!  See more Whole Foods Opening Week Events to find the best day for your visit.  I doubt you'll be disappointed!
I didn't even share with you all I learned on my tour last night.  Look for a post tomorrow on Ways to Save Money at Whole Foods Market.
Have you shopped at a Whole Foods Market?  Share with us your thoughts.