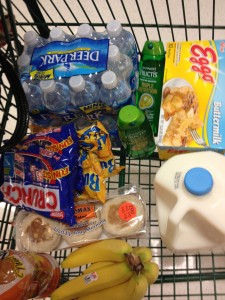 I almost didn't 't bother to post my Farm Fresh shopping trip again today since it's pretty boring.  I really didn't need anything except a few of the deals and a couple necessities. I made a Trader Joe's run last week and I'm trying to save my grocery budget to shop at the new Whole Foods 🙂
Get your Farm Fresh Deals here
Milk
Bananas
2 Water Mini's $2
2 Garnier Shampoo $1
1 English Muffins $1.99
4 bags Nestle Candy $6
2 Eggos $3
1 V-fusion Smoothie FREE
Total Paid: $19.74
Total Saved: $14
I've purchased 8 bags of Halloween candy at FF for about $11.  That's not too bad considering I decided to be lazy and not take advantage of sales at other stores 🙂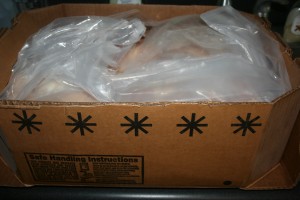 My exciting shopping trip today is when I picked up 40lbs of chicken from Zaycon Foods.  I was in desperate need of chicken, so I'm beyond thrilled.  If you want to learn more about Zaycon Foods, you can read my chicken review (with video).  Make sure to sign up (if you're not already) so you can be notified when the next event takes place.
The only other shopping I plan to do this week (other than Whole Foods) is to pick up B1G1 bread from Harris Teeter.
How did you do today?