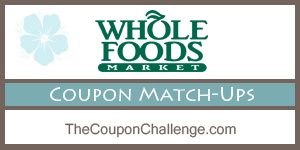 Whole Foods Market Mid-Atlantic region hot deals are below.  There are only 2 coupons matchups this week.
Saffron Road Frozen Entrees $3.99
$1/1 Saffron Road Product printable
$1/1 Saffron Road Product printable
Final: $2.99 each
Brown Cow Greek Yogurt Cups $1|
$0.50/2 Brown Cow Cream Top Greek Yogurt printable
$0.50/3 Brown Cow Yogurt printable
As low as $0.75 each wyb 2
Accepts 1 manufacture coupon per item
The Virginia Beach store allows coupon stacking – 1 manufacture and 1 Whole Foods store coupon per item
Whole Foods store coupons found online and in the Whole Deal Booklet in-store
Go digital with the New Way to Save at Whole Foods Market
Case Discounts of 10% off anything you can purchase by the case – 10% savings before coupons *inform cashier you are purchasing a case to ensure you get the discount!
Purchase the Whole Foods Market 2013 Calendar with over $40 in coupons
Bring your reusable shopping bag to receive 5¢ off per bag
See the Whole Foods Coupon Policy
Mid-Atlantic Region = DC, KY, MD, MRL, OH, PA & VA
New to shopping Whole Foods? Read my post How to Save Money at Whole Foods Market.
See more Whole Foods Market Specials to save more everyday!