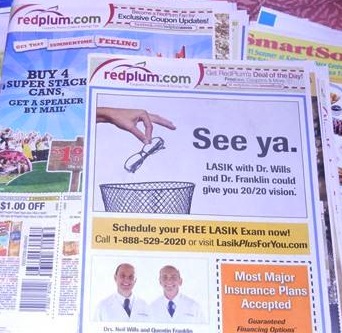 I'm always asked the question: Why doesn't the RedPlum insert come in The Virginian Pilot?  Well, about 4 years ago, RedPlum decided to test out distributing their coupon insert in the mail instead of putting it in the newspaper.  Unfortunately, we were chosen to be one of the lucky test areas and  this failed experiment is still in effect.
So, how do you get the RedPlum insert if you subscribe to The Virginian Pilot?  Check your junk mail on Tuesday's (sometimes Wednesday.)  You should see the RedPlum coupon insert amidst the pizza sales and grocery store flyers.
Sadly there are a few areas in Chesapeake, VA Beach and Norfolk that don't receive the RedPlum insert at all, so you'll need to get a bit more creative in getting those inserts.
What If I Don't Get the RedPlum Inserts in the Mail?
Ask friends and family to give you coupon inserts.  This is the cheapest way to get the RedPlum insert or to get extra copies.  Even though I get the RP insert in the mail, my Mom and Mother-in-Law give me their inserts.
Purchase newspapers other than The Virginian Pilot.  If you live on the Southside, you can purchase the Washington Post and Richmond Times in select stores. You can also see the Washington Post Subscription Discounts for Sunday only delivery. If you live on the Peninsula you can purchase The Daily Press and The Virginia Gazette.   PLEASE check that the inserts are inside the paper before you purchase at the store!
Print from the RedPlum online coupon site.  Not all the coupons from the inserts are online, but there are some.
I've heard that The Pilot has tried to get the RP insert back in their newspaper but were unsuccessful.  I wish I had a better answer for you, but keep your fingers crossed that we will one day see the RP insert back in our local paper.
Do you have other ways to get the RedPlum insert?