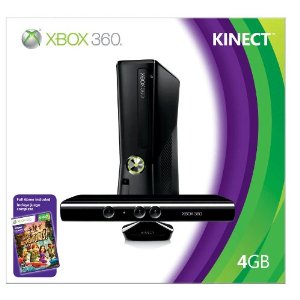 This is the last major week for shopping, so I want you all to take advantage of it. Don't wait until next week when you will really overpay for gifts.
If you want the 250GB system, I would purchase from Walmart since it includes Kinect.  If you only want a 4GB system (which most of you probably do), I would shop at Amazon or Target.
Amazon:  4GB Xbox 360 Console with Kintect $296.67 plus $80 Amazon Credit (make sure to
Best Buy:  Xbox 360 250GB Holiday Bundle $299.99 plus earn $75 Best Buy Gift Card with purchase (ad doesn't mention includes Kinect – comes with 2 games & more GB).
Target:  4GB Xbox Bundle with game system with Kinect $299.99 plus earn $80 Target Gift Card with purchase.
Toys R Us: 4GB Xbox 360 Game System with Kinect $299.99 plus earn $60 Toys R Us gift card with purchase.
Walmart: Xbox 360 250GB Console with Kinect and Bonus $100 Gift Card. Includes Carnival Games, Kinect Adventures!, and 3-month Xbox Live® Gold Membership
Don't forget that you can earn Double Cash Back at these stores when you shop through Ebates today, December 12th.