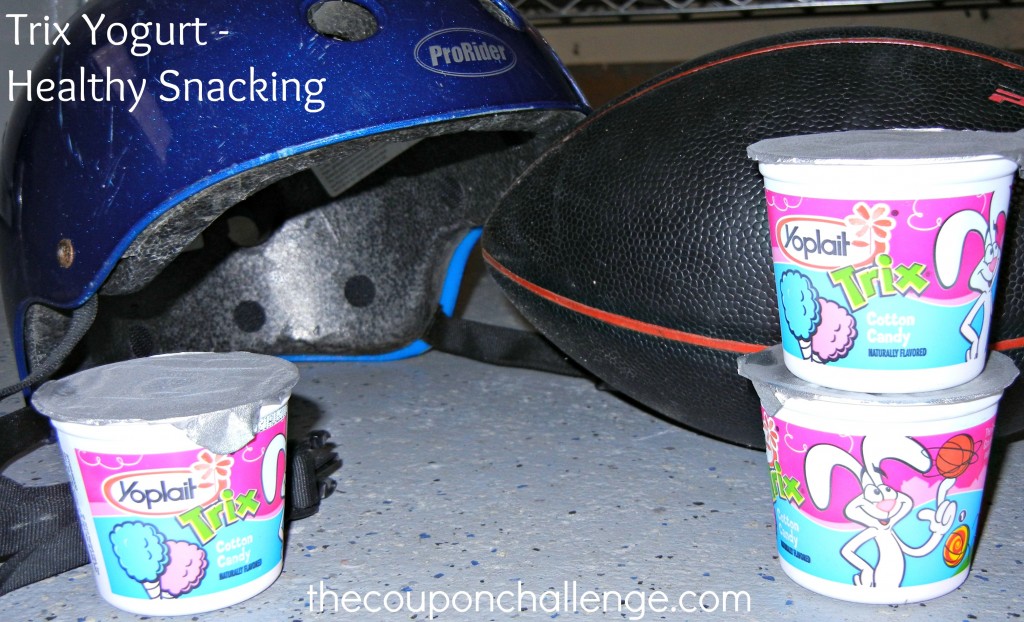 Yogurt is a staple in my house.  It's one of those foods that we always have on hand.  Breakfast, snack or dessert;  yogurt is a healthy treat for the entire family.
Keeping kids healthy requires an active lifestyle and good nutrition.  After playing outside, riding bikes, and throwing the football, my kids know the only snack they can have is a healthy one  I don't even have to tell them that yogurt is on the "good for you" list.  They just grab a container from the fridge and chow down.  Luckily, Yoplait Trix Yogurt makes eating yogurt fun and nutritious.
The cute rabbit and fun colors grab kids attention.  While kid friendly flavors leave my kids asking for more.  Our favorite flavor is Cotton Candy.  "When you mix it, the colors make a cool swirl," is my 8-years response to why he likes Yoplait Trix Yogurt.  LuLu (5) puts it more simply,  "It's Yummy!"  I think that just about sums it up!
As a Mom, I like that Yoplait Trix Yogurt contains no artificial colors, flavors or sweeteners.  Trix Yogurt is also gluten free and is made with active yogurt cultures.  Kids might like the taste, but Mom likes the healthy benefits of snacking on lowfat Yoplait Trix Yogurt!
"Trix are for kids" but unwanted additives definitely are not. That's why Yoplait® Trix® Yogurt comes in silly, swirly flavors kids love, without high fructose corn syrup, artificial flavors, or sweeteners. It's still the same bright, fun, colorful snack, only better. You'll love that they love it!
Disclosure: Compensation was provided by General Mills via Glam Media.  The opinions expressed herein are those of the author and are not indicative of the opinions or positions of General Mills