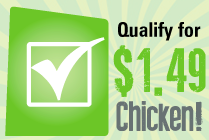 Reminder:
Do you like Zaycon Foods chicken and ground beef?  I do!
They have an interesting promo going on right now to get you boneless, skinless chicken breasts for just $1.49lb!  The catch?  You need to purchase a case of ground beef now then you get the special chicken price later.
All the details are below:
When you buy a case of our famous fresh ground beef at its regular (and really rather amazing) price of $3.99 per pound, we'll offer you a chance to order chicken at $1.49 per pound. (You can of course order cases of chicken alone at the regular price of $1.89 per pound, which still beats the heck of grocery store rates!)
The process couldn't be simpler: once you have ordered a case of beef, your account will be qualified for the special $1.49 price on chicken! The ground beef sales are open now and the events start in July. Chicken sales will open in July, and we'll send you plenty of heads-up, don't worry!
I've been pleased with the chicken and can't wait to get more beef for my freezer!  Make sure to sign up (if you're not already) so you can be notified when the next event takes place.
Click HERE to order.