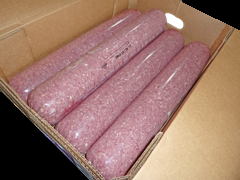 Zaycon Foods is coming to Hampton Roads in April with Ground Beef and Ham!
The prices are:
Carvemaster Boneless Applewood Smoked Ham  $3.49lb
Fresh Ground Beef, Lean (93/7) – 40 lbs $3.99lb
Yes that is expensive but half a case lasted me almost 6 months!  Plus not having to drain the meat for taco's or having the grill catch fire when cooking burgers from all the fat dripping is priceless

TIP:  When you are splitting the beef for freezing, take time to pre-make hamburgers and meatballs.  This will save you a ton of time later.  You can also cook up seasoned beef in bulk for tacos, enchiladas and other dishes.  I can't tell you how much time it's saved me by having these items ready in my freezer!
Virginia Beach, VA Ham, Ground Beef Event
Tuesday, April 15, 2014
3:30 pm – 4:30 pm
Suffolk, VA Ham, Ground Beef Event
Tuesday, April 15, 2014
12:30 pm – 1:30 pm
Newport News, VA Ham, Ground Beef Event
Wednesday, April 16, 2014
8:00 am – 9:00 am
*Apparently there is a beef shortage which has resulted in a slightly higher price than the last event.
I've been pleased with the chicken and can't wait to get more beef for my freezer!  Make sure to sign up (if you're not already) so you can be notified when the next event takes place.