I've always been a huge advocate of meal planning and freezer cooking. One of the easiest ways to save money is to plan ahead. No drive through runs at 5pm or last minute trips to the grocery store. If you know what you're meals will be in advance and better yet, have some meals already prepared in the freezer; you can save a ton of money and time.
That's where Pampered Chef Freezer Meal Workshops can come in handy. Feed your family for around $3 per serving (or less if you're a coupon user!)
How it works:
Pre-order The Pampered Chef Pantry items you'll need
Bring along the groceries from a provided list
Socialize with friends while assembling your meals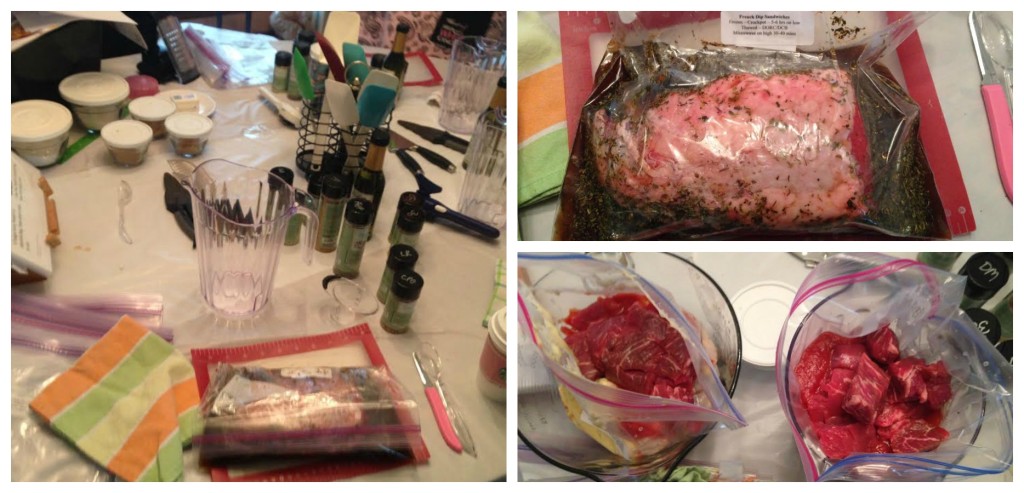 The menu from my workshop included:
French Dip Sandwiches
Beef Gyros
Asian Short Ribs
Savory Beef Vegetable Soup
Greek Chicken
Chicken de Provence
Lemon Chicken
BBQ Pulled Chicken
Savory Pork Chops
Cheesy Ham & Potato Soup
In 2 hours or less, you can have 10 meals in your freezer!
We went out of town the day after my workshop, so we've only had the French Dip Sandwiches and Savory Pork Chops. The Lemon Chicken is in my crockpot right now!   My favorite thing is that I can pull the frozen meal out of my freezer and dump it straight into my crockpot. It takes me about a minute to get dinner started. Add a side and dinner is done!
I was initially a bit concerned about the cost. I usually plan meals based on what is already in my pantry to save money.  However, most of the grocery items will likely be in your panty or you can watch for sales leading up to your workshop.  I already had most of the canned items on hand, so I didn't have to purchase everything on the list.
You do need to purchase the Pampered Chef seasonings, but a list of other recipe ideas is provided to use your remaining spices.  Past hosts can save an additional 10% too

Hampton Roads locals can contact Tiffany to attend a workshop. You can attend one of her scheduled workshops or host your own. This is also a good idea for providing a Mom-to-be with meals.  Each member gives up a meal to the new Mom to stock her freezer!
Have you attended a Freezer Meal Workshop? Share your thoughts.