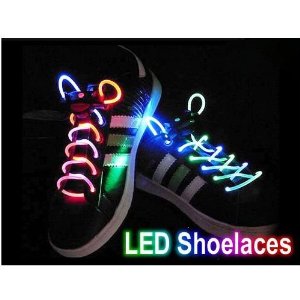 Looking for stocking stuffer ideas?
I'm having more difficulty finding gifts for my son's stocking over my daughters. Most of these could be for a girl or boy, though. I added Piggy Paint near the bottom for girls since it's nontoxic.  It's more expensive than regular nail polish, but LuLu still occasionally sucks her thumb while she's sleeping – I like polish specifically for kids.
:: SODIAL- Laser Finger Beams
$1.99 shipped
:: SODIAL- Led Light Up Flashing Glowing Shoelaces – Multi-Color LED Shoe Laces flash Lighting the Night For party Hip-hop Dancing
$2.21 shipped
:: Flashing Led Bumpy Ring (Pack of 12) $6.05 (Prime Shipping)
:: 40 Super Bright Finger Flashlights – LED Finger Lamps – Rave Finger Lights
$7 (Prime Shipping)
:: SODIAL- 12 Pack Self Adhesive Assorted Fake Moustache / Mustache Set Fancy Dress Party Birthday Stylish
$1.59 shipped
:: 100 8″ Premium Glow Stick Bracelets (10 Color Mixed Assortment)
$11.99 (Prime shipping)
:: Solar Car – World's Smallest Solar Powered Car – Educational Solar Powered Toy
$1.65 shipped
:: OWI Frightened Grasshopper Kit – Solar Powered
$2.92 shipped
:: Glowbys LED Fiber Optic Light-Up Hair Barrette – Rainbow
$5 (Prime Shipping)
:: Flingshot Slingshot Flying Screaming Monkey
$5.95 (Prime Shipping)
:: 3 pcs Aqua Blue/Black/Red Capacitive Stylus/styli Touch Screen Cellphone Tablet Pen for iPhone 4 4s 3 3Gs iPod Touch iPad 2 Motorola Xoom, Samsung Galaxy, BlackBerry Playbook AMM0101US, Barnes and Noble Nook Color, Droid Bionic
$1.09 shipped
:: Piggy Paint Non-toxic Nail Polish (Clouds of Candy – Pastel Blue)
$8.37 (Prime Shipping) save 16%
:: LEGO Ninjago Jay ZX 9553
$4.99 (Prime Shipping) save 50%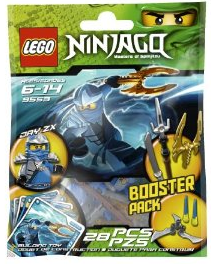 Some orders above will qualify for FREE shipping with Super Saver Shipping on orders over $25 or with Amazon Prime.
I also posted a Jewelry Sale Round-Up that you might like!
Product prices and availability are accurate as of the date/time indicated and are subject to change. Any price and availability information displayed on amazon.com at the time of purchase will apply to the purchase of this product.