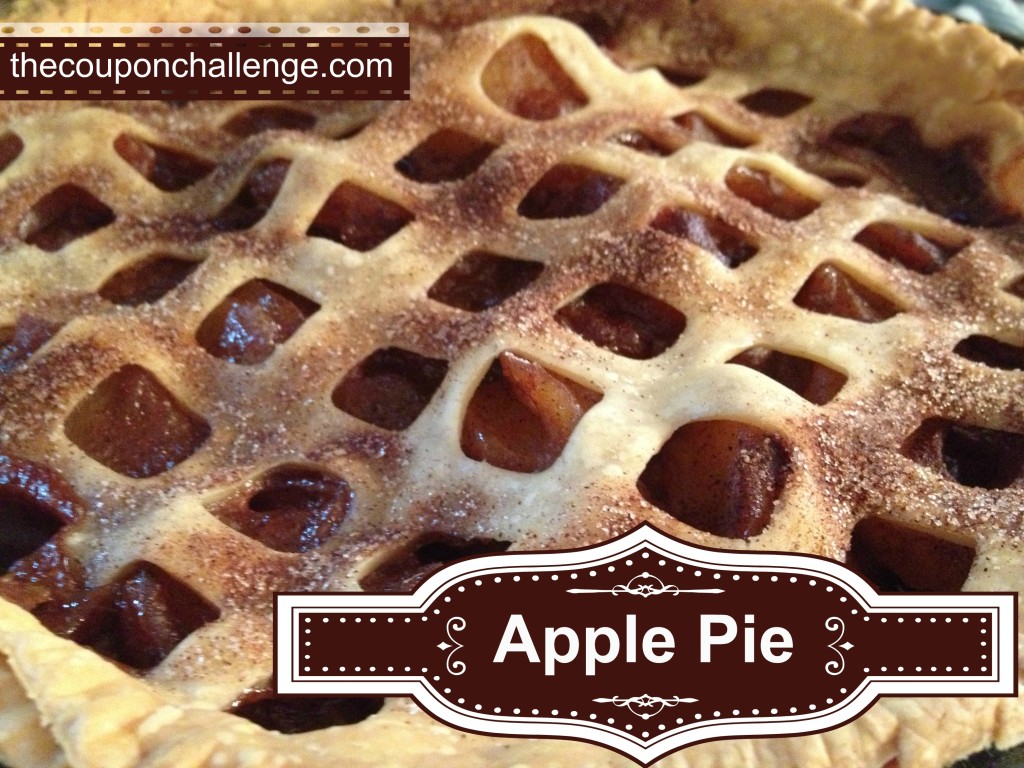 It's the time of year to go apple picking and to find great sales at your local stores.  Make sure to try this delicious Apple Pie recipe that uses homemade pie crust with canned apple pie filling to make your pie a bit quicker to prepare 🙂
Ingredients:
For Crust:
2 Cups of flour, plus a little extra on the side
1/2 cup shortening (I use Crisco)
1/2 cup water
Wax Paper
Rolling Pin
Pie Pan
1. Melt Crisco over low heat
2. Add water and stir until smooth
3.  Roll wax paper onto counter or other work surface
4. Slowly combine flour, and melted shortening onto the wax paper to create the dough
5. Once dough is mixed, the consistency should be soft.  Continue adding flour until it feels similar to Play-Doh  **Tip – if it is dry, add a little water.  If it is sticky, add more flour.
  6.  Dust wax paper with flour and roll out half of the dough until it is an even thickness throughout
7.  Repeat process with second half of the dough
8. Carefully cover the bottom of the pie pan with one half of the rolled out dough.  Press dough in and around all of the sides and bottom to ensure even cooking.
9. Using a Lattice Pie Crust Cutter, roll remaining dough over the top and push dough pieces through.  **Tip – If not using a pie crust cutter, be sure to cut small slits in the top of the pie crust.
10.  Put aside until filling is complete.
Ingredients:
For Apple Pie Filling:
1 Can Apple Pie Filling (I use Comstock Brand)
Large Spoonful Butter
2 tablespoons of Cinnamon
1/4 cup of Sugar
1. Preheat oven to 350 degrees.
2. Spoon the Apple Pie filling into a small pot on medium-low heat and warm through.
3. Mix the cinnamon and sugar together in a separate bowl.
4. Fold butter into the pie filling until melted.
5. Add cinnamon and sugar mixture, reserving a small amount for the crust.
6. Once warm, pour into bottom pie crust
7. Fold top pie crust over top
8. Pinch and seal the edges together, using your fingers or a fork.  Cut off excess dough.
9.  Sprinkle remaining cinnamon and sugar over top of the crust
10. Bake for 30 minutes, until warm and bubbly and crust has browned
Enjoy this Apple Pie Recipe!
Also see my Recipe for Homemade Applesauce in the Slow Cooker!