I made Apple Pie with my step-dad last week using apples picked from a local farm.  I was surprised at how easy making an apple pie can be!  If you want to make this all American pie, check out my Apple Pie Filling Recipe below:
Ingredients:
6-8 cups sliced apples
1/2 – 1 cup Brown sugar
1/8 + tsp salt
1 1/2 – 2 Tbsp cornstarch
1/4 + tsp cinnamon
1/8 + tsp nutmeg
1 package of Pillsbury pie crust
*The ingredient amount range is due to the size of the pie!  Use the more of an ingredient for a 10 in. pie and less for a 9 in. pie.  You can also modify the amount of brown sugar based on the sweetness/tartness of your apples.
Directions: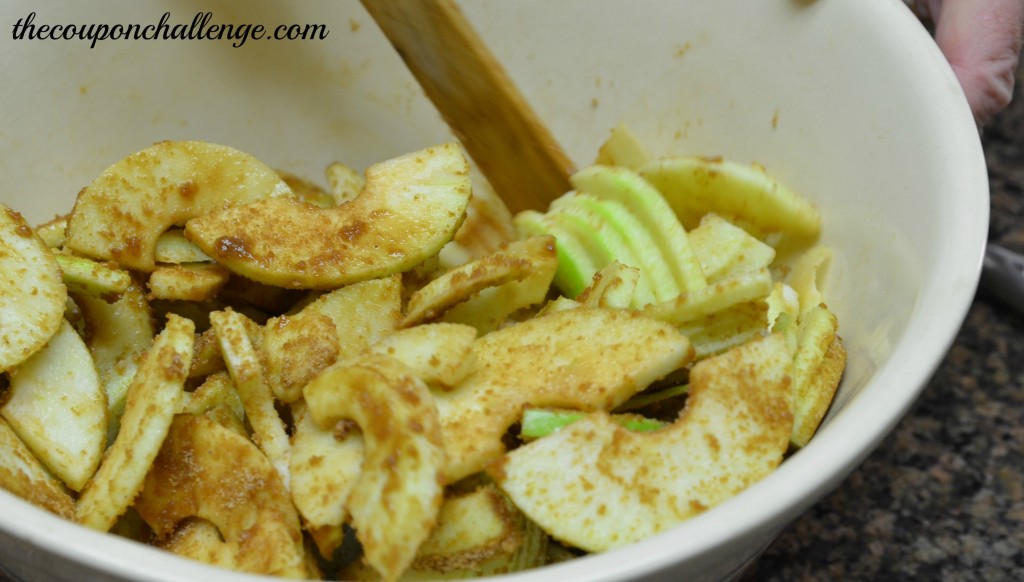 Combine all dry ingredients and sift over apples, stir.  Tip:  Use a large bowl and clean hands to mix as they are more gentle than a spoon.
Line pie crust with apple mixture and dot with butter.
Add top crust, prick or cut slits in top.
Bake at 450° for 10 minutes then lower temperature to 350° and bake for 35 to 45 minutes more. Tip:  Place a baking sheet under the pie pan to prevent drips.
Top with vanilla ice cream or cool whip (optional.)
Do you have a favorite Apple Pie Filling Recipe?
Adopted from Joy of Cooking Cookbook
Don't forget to see my Apple Pie Recipe with homemade pie crust