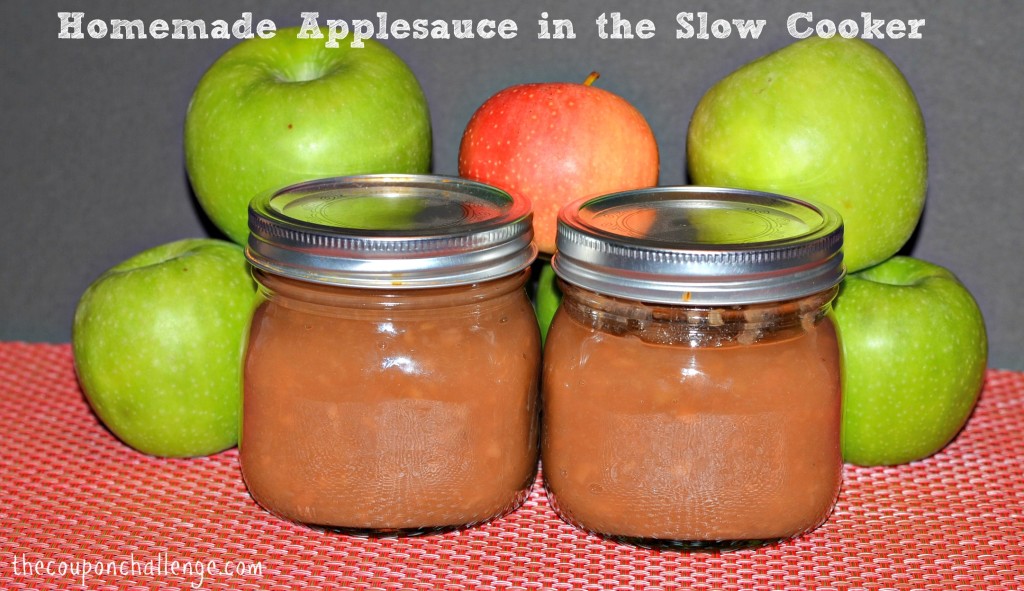 Apples are plentiful this time of year, so take advantage of picking at your local farms and shopping grocery store sales.  Check out this easy recipe for Homemade Applesauce in the Slow Cooker for a healthy and budget friendly treat.  I love recipes that I can set and walk away!
Bonus – your house will smell amazing all day 🙂
Recipe for Homemade Applesauce in the Slow Cooker
Ingredients:
15 – 25 Apples Peeled, Cored and Sliced*
3/4 Cup Water
1 tsp. Fresh Lemon Juice
1 Cinnamon Stick (optional)**
1/4 – 1/2 Cup Sugar (optional)
*Number of apples will be dependent on size of apples.
**You could substitute 1 tsp. Ground Cinnamon for the Cinnamon Stick or eliminate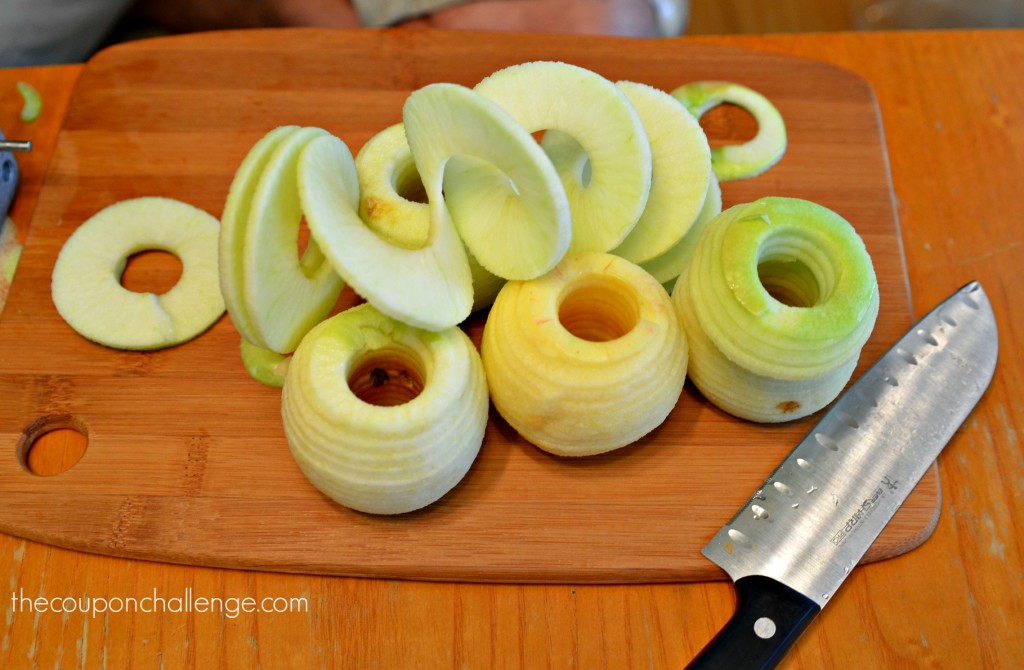 Directions:
1. Put all ingredients into slow cooker except for the sugar.  I like to wait until after cooking to see if the applesauce needs added sugar.  If you purchase sweeter apples, you may not even need to add sugar as it will be naturally sweet.  If you have tart apples such as Granny Smith, you will likely need to add a bit of sugar.
2. Slow Cooker should be about 3/4 full.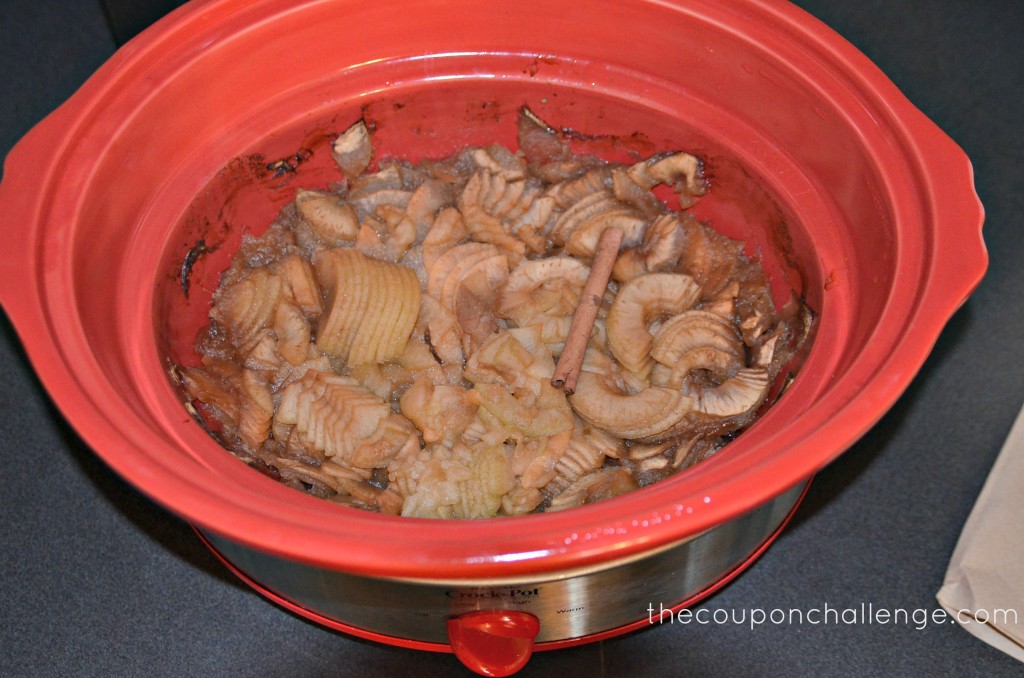 3. Cook on low about 6 hours.  If you're not using an Apple Peeler/Corer/Slicer, you will need to increase your cooking time to accomidate chunky apple pieces.
4.  Remove and discard cinnamon stick.
5. Mash with a potato masher for chunkier applesauce or blend for a smoother applesauce.
This will last in the refrigerator for about a week.
I love that I can tweak the recipe for whatever I have on hand.    This recipe also freezes well.  I've placed cooled jars into the freezer without a problem.  To thaw, I just let it sit in the fridge for about a day.  Then it's ready for the kids to chow down on homemade applesauce in December.
Note:  If you have a small slow cooker, use 6 -10 apples and reduce water to about 1/2 cup.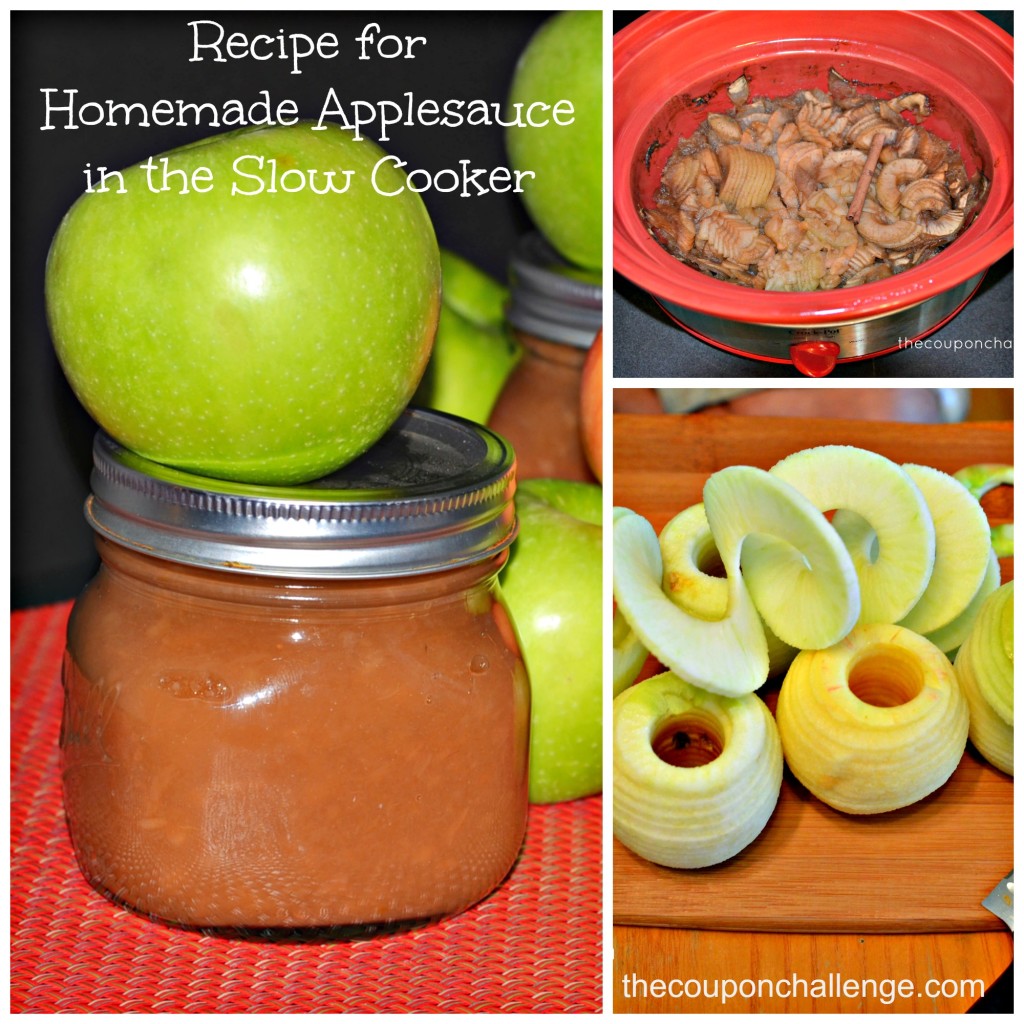 What is your Recipe for Homemade Applesauce in the Slow Cooker?  Do you add other ingredients?
Make sure to also see my Apple Pie Recipe with homemade pie crust!