I don't know about you, but I love cooking creamy casserole-style dishes, like Homemade Macaroni and Cheese or Chicken Broccoli and Rice Casserole. I love how versatile they are, how easy they are to throw together, and how convenient it is to prepare them ahead of time and then just toss them in the oven 30 minutes before dinner.
One thing I've noticed from preparing tons of these creamy casseroles is that almost all of them have one very important ingredient in common: Cream of Mushroom Soup. I can't even tell you how many cans of this stuff I've gone through over the years–it's in everything!
I used to have a fairly large stockpile of Cream of Mushroom soup, but since then, it has dwindled. That's okay, though, because that made or the perfect opportunity to try making this Homemade Cream of Mushroom Recipe from scratch, and I'm so glad I did!
This easy homemade cream of mushroom soup recipe offers the great taste you're used to in your creamy casseroles, but it also offers so many other advantages as well. It's easy and inexpensive to make, and it contains much better ingredients for you than store bought Cream of Mushroom Soup. Plus, you probably already have most all–if not all–of the ingredients on hand already.
The next time you go to make a recipe that calls for Cream of Mushroom Soup–whether you are making an old favorite or trying a new Thanksgiving Side Dishes recipe–and you see that you are out of it, don't make an extra trip to the store. Use this Cream of Mushroom Soup recipe for a casserole that is easy, inexpensive and delicious!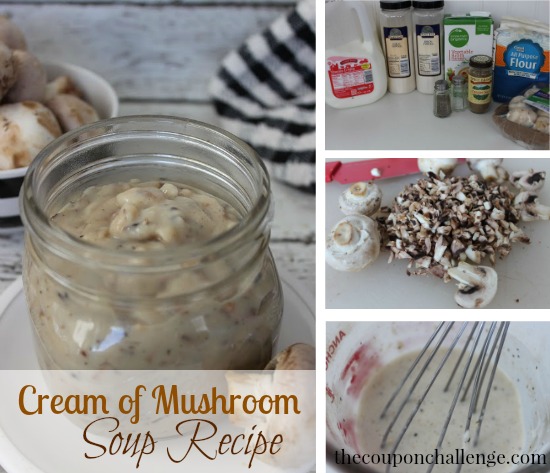 Easy Cream of Mushroom Recipe
(Yield equivalent of 2 cans)
INGREDIENTS
3/4 cup finely chopped Mushrooms
1/3 cup Flour
2/3 cup Milk
1 1/4 cup Vegetable Broth
1 tsp Onion Powder
1 tsp Garlic Powder
1/4 tsp Celery Salt
1/4 tsp Salt
1/4 tsp Pepper
DIRECTIONS
Bring vegetable broth to a boil in a large pan.
In a bowl, whisk together milk and flour until flour is dissolved.
Add in remaining ingredients and continue whisking until incorporated.
Add the milk/flour mixture to the broth, whisking to combine.
Reduce heat to medium, allow to cook until thickened (3-5 minutes) stirring constantly.
Remove from heat.
Use immediately or store in airtight container in refrigerator.
These wide-mouthed canning jars would be perfect plus are also good for the freezing other foods such as this homemade applesauce in the slow cooker.
What dish do you want to try using this Cream of Mushroom Recipe?