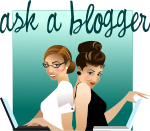 This week's Ask a Blogger will answer a question I received on the post How to Make a Screenshot and Screencast:
Question: Can you get your video to be embedded in your blog post? Or will it only allow it to be accessed by clicking the link & viewing it on youtube?

Answer: Yes, you can embed a video in a blog post.
From your youtube account, look for the option to "share" your video
Under the URL, Click "embed"
Paste that code into your blog post (under the

HTML tab

)
"Preview" then "Publish" your post from the HTML editor (going back to the visual editor may remove the iframe code for the video)
I typically add a link to the video on youtube in case the video doesn't load for some readers.
Video not displaying?  Click here.
Have a question?  Just ask.
You can search all of our articles by typing in Ask A Blogger.