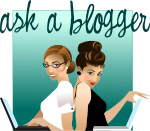 Thanks to Madame Deals for this weeks post!
The question of the hour is when do you mark a post as a "no follow post?"

The answer is simple.  If Goggle thinks you are making money on the post then it is a "No Follow" link.  This would include reviews, giveaways, and affiliates links.  If you created a post that you are going to duplicate then mark it as a no follow post. Goggle does not like posts that have duplicate content, so you need to alert their bots that this content is not being submitted for review. If you fail to mark your posts with no follows;  you may adversely affect you Google page rank. It is important to be transparent with Google if you were paid or could get paid, so mark it is a no follow.
You can view all our posts by searching Ask a Blogger.