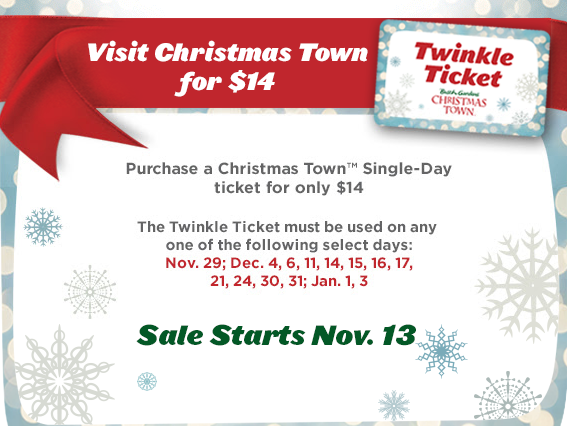 Ending Soon!
Busch Gardens Williamsburg will have a sale on Christmas Town tickets ONLINE ONLY starting today, November 13th for a limited time! The price for the single-day admission "Twinkle Ticket" will be $14. You may purchase up to 6 tickets.
Please note there is a $5.99 service fee, but it's still an awesome deal!
I doubt we will see a better single-day offer this season.
The tickets can only be used one of these select days: Nov. 29; Dec. 4, 6, 11, 14, 15, 16, 17, 21, 24, 30, 31, 2015; Jan. 1 and 3, 2016.
The ticket doesn't include the parking fee.  If you have a season's pass you can use it for parking during Christmas Town.  If you were considering a Season's Pass for next year, you can purchase it now (it's valid for 12 months) and a Twinkle Town ticket then take advantage of the free parking and food discount now, plus have the pass to use all next season as well.
Fine Print:
The Twinkle Ticket is available online only Nov. 13 beginning at 12:01 a.m. – Nov. 17, 2015 at 11:59 p.m. $14 ticket may only be used on any one of these select days: Nov. 29; Dec. 4, 6, 11, 14, 15, 16, 17, 21, 24, 30, 31, 2015; Jan. 1 and 3, 2016. Valid only at Busch Gardens Williamsburg. Does not include parking. May purchase up to six discounted tickets. Cannot be used in conjunction with any other offer. Some restrictions apply. Additional taxes and fees apply. Christmas Town is a separate-ticketed event, not included with Pass Membership or Waves of Honor™. Event dates, times and inclusions are subject to change and/or cancellation without notice. Operating schedule, rides/attractions and prices are subject to change without notice. See website for complete details.
Purchase tickets HERE starting the 13th.
See all the other Busch Gardens Christmas Town Coupons 2015 for current deals and prices.