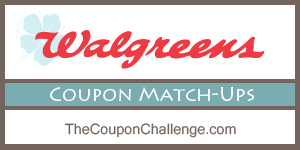 Walgreens Sale Ad Coupon Mathups have been updated! Please visit the Walgreens sale ad coupon matchups page to view the entire list of deals that start today. Make sure you're viewing the correct tab to get the right deals!
Walgreens now participates in the Balance Rewards Program. Make sure to get your card before shopping.
My local stores give a 15 % discount on Tuesdays for Military members and dependents with valid Military ID.
New to Walgreens? Read my post on how to save money at Walgreens to learn how to make the most of your shopping trip.
Spend $50 on participating beauty products, get 5000 points (= $5.00); See store for details
Walgreens Balance Rewards
Buy 2 participating All brand laundry products, get 1000 points (= $1.00); Mix & Match
All brand Liquid Laundry Detergent, 26 – 31 ld – $2.99
$1.00/1 All brand Laundry Product – 10-28-18 RMN; Excludes Trial and Travel Size (exp. 11/25/18)

$2.00/2 All or Snuggle brand Laundry Product – 10-28-18 RMN; Excludes Trial and Travel Size (exp. 11/25/18)
Out-of-Pocket Price: $1.99
Final Price: $1.49
Buy 2; Use $2.00/2 coupon; Includes 1000 points (=$1.00)
All brand Mighty Pacs Detergent, 18 – 22 ct – $2.99
$1.00/1 All brand Laundry Product – 10-28-18 RMN; Excludes Trial and Travel Size (exp. 11/25/18)

$2.00/2 All or Snuggle brand Laundry Product – 10-28-18 RMN; Excludes Trial and Travel Size (exp. 11/25/18)
Out-of-Pocket Price: $1.99
Final Price: $1.49
Buy 2; Use $2.00/2 coupon; Includes 1000 points (=$1.00)
All brand Powercore Laundry Detergent Pacs, 18 – 22 ct – $2.99
$1.00/1 All brand Laundry Product – 10-28-18 RMN; Excludes Trial and Travel Size (exp. 11/25/18)

$2.00/2 All or Snuggle brand Laundry Product – 10-28-18 RMN; Excludes Trial and Travel Size (exp. 11/25/18)
Out-of-Pocket Price: $1.99
Final Price: $1.49
Buy 2; Use $2.00/2 coupon; Includes 1000 points (=$1.00)
Buy 3 participating Pantene products, get 2000 points (= $2.00); Mix & Match
Pantene Hair Care Products – $4.00
3/$12 (or $4.79 ea)Includes: Select varieties
$2.50/1 Pantene Styler or Treatment – 10-28-18 PG; Excludes Trial and Travel Size (exp. 11/24/18)
Out-of-Pocket Price: $1.50
Final Price: $0.84
Buy 3 stylers; Use (3) $2.50/1 coupons; Includes 2000 Points (= $2.00)
Walgreens Register Rewards
Buy 3 participating Crest or Oral-B products, get $5 RR; Mix & Match
Includes: Select varieties
Out-of-Pocket Price: $2.99
Final Price: $1.66
Buy 3; Includes $5 RR
Includes: Select varieties
Out-of-Pocket Price: $2.99
Final Price: $1.66
Buy 3; Includes $5 RR
Oral-B Toothbrushes – $2.99
Includes: Select varieties
Out-of-Pocket Price: $2.99
Final Price: $1.66
Buy 3; Includes $5 RR
Condiments, Spice & Baking
C&H Pure Cane Sugar, 4 lb – $1.49
$0.65/1 C&H Sugar Product – 11-4-18 SS; Includes 2 lb or Larger Only (exp. 01/05/19)

$0.65/1 C&H Sugar Product – 9-9-18 SS; Includes 2 lb or Larger Only (exp. 11/17/18)
Final Price: $0.84
Buy 1; Use $.65/1 coupon
Cookies, Snacks & Candy
Tic Tac Mints, .95 – 1 oz – $0.99
Includes: Select varieties
$0.50/1 Tic Tac Gum, Tic Tac Mints or Tic Tac Mixers – 10-21-18 SS (exp. 01/21/19)
Final Price: $0.49
Pharmacy
ThermaCare Heat Wraps, 2 – 4 ct – $6.29
$2.00/1 Thermacare Product – 11-4-18 RMN; Excludes Heatwraps, 1 ct (exp. 11/18/18)
Out-of-Pocket Price: $4.29
Final Price: $2.29
Buy 2; Use $2.00/1 coupon; Includes Rebate from Ibotta