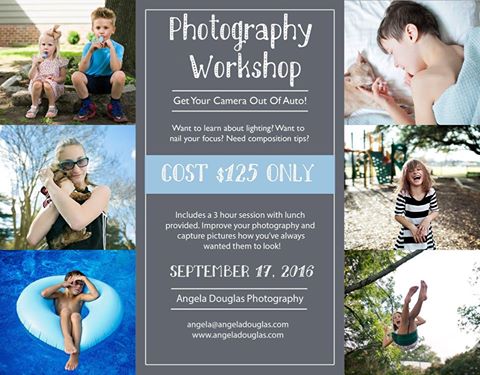 Do you love taking pictures but are not satisfied with how they look? Do you have an amazing camera but have no idea how to use it?   Is your camera always set to auto?  I have a great solution to your photography problems!
Right now you have the rare opportunity to learn some of my favorite photographer's best tips!   I've featured Angela Douglas Photography on this site before and am a BIG fan! She is a genius with getting the best pictures with my boys and I cherish the moments she has captured. Angela is currently offering an intimate photography workshop that will happen next month!
 Here are the details:
When: Saturday September 17th 10am-1pm
Where : Norfolk, Va
Cost:  $125
Whats Included : A workbook filled with information from the workshop plus a delicious lunch.
What You Will Need: A DSLR ( Digital Single lens reflex) camera or a mirrorless camera.
What You Will Learn.
Angela is keeping this class small and intimate in order to provide plenty of opportunities for one on one instruction. You will learn exactly how to get the kind of quality pictures you desire.  This will include Angela instructing you how to adjust your ISO, aperture, and shutter speed.  Easy lighting and composition tips will also be shared that will make a huge impact on your photos.  She'll even share secrets to getting your subjects to show more natural smiles-boy do I need help with this!
Don't miss this opportunity! Be sure to contact Angela Douglas Photography to reserve your spot!
Get Your Spot Here: [email protected]