These sweet Easter basket craft for kids can be used for decorating the table as a centerpiece,  collecting Easter eggs, or for dramatic play. They are inexpensive and a wonderful way to upcycle items from around the house.
This is a very kid friendly craft and is a fantastic and creative way to work on some fine motor skills- threading ribbon, and tying knots. For toddlers these baskets would be a great toy to carry, dump, and fill with plastic Easter eggs. We are planning on making one for grandma and filling it with a couple of her favorite bath products and a chocolate or two plastic.
Easter Basket Craft for Kids: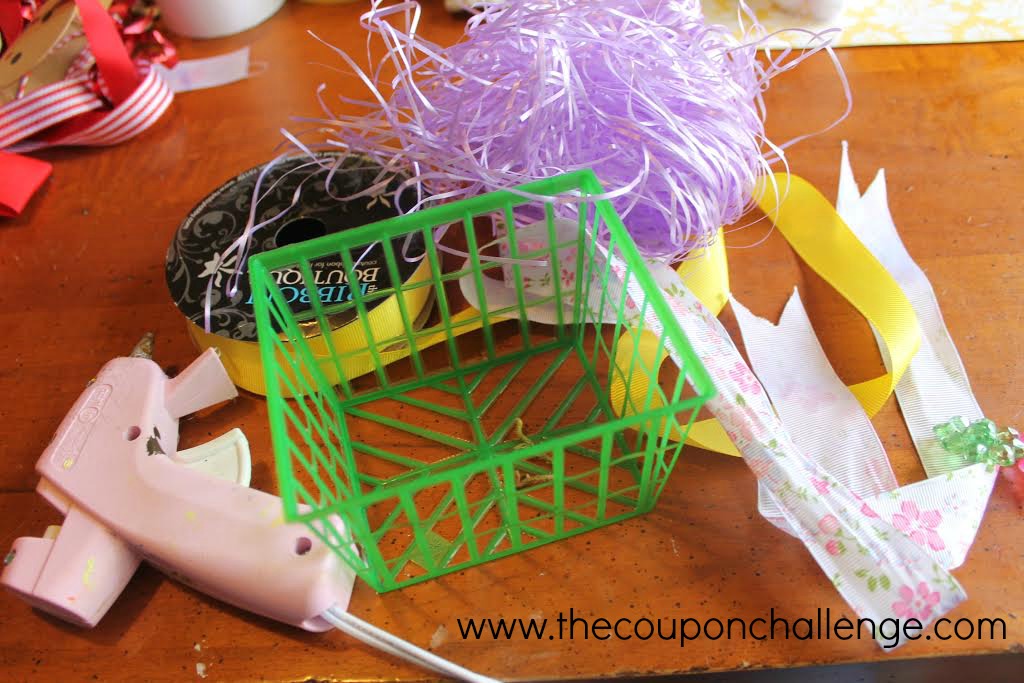 Supplies Needed:
plastic Strawberry basket
buttons, silk flowers, stickers, beads, etc
5/8"- 1" ribbon
hot glue/glue gun
scissors
Easter grass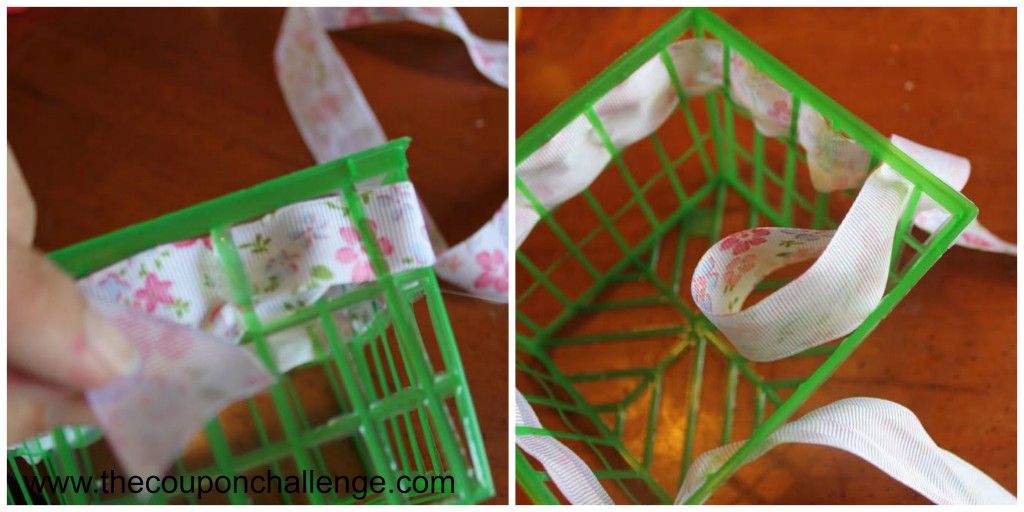 Directions:
Wash strawberry basket and dry thoroughly.
Weave ribbon in and out of holes on basket, you can thread through all rows or just one.
On the "back" of your basket, hot glue the ends down.
Use hot glue to secure decorative items like buttons or silk flowers onto the ribbon to embellish, the plastic flowers on this basket are from a pack of Spring table scatter I picked up at Dollar Tree. Using hot glue will ensure they stay on.
Tie ribbon on one side of your basket, knotting it securely, determine the length you want the handle and tie off the other end of the ribbon on the opposite side of the basket.
Place a small amount of grass in the bottom and they are ready to go.
They are not just for girls, as you can see I created a more boyish version.   You can pick up ribbon in so many colors and patterns you can really chose any theme or character and customize your basket for anyone. You could even use strips of scrap ribbon, burlap, twine, or raffia to create a rustic, country design.
They would make fabulous homemade baskets for teacher, neighbors, or friends and family.
What are your ideas for this Easter Basket Craft for Kids?
You might also like this Easter Bunny Napkin Holder!