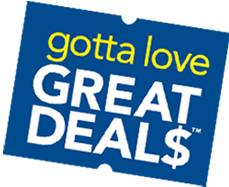 Farm Fresh is continuing the Gotta Love Great Deals Event.  The deals below are for the week of  September 19th – 25th.   There will be a new Deal of the Day everyday through October 2nd.  Some of the prices are fantastic, even without a coupon matchup!
Please note that deals are valid only on the date specified and no rainchecks will be issued.
9/19– Essential Everyday Coffee (28 – 33.9 oz)  $3.99 (Limit 1)
9/20– Progresso Vegetable Classic Soup (18-19 oz) $0.79 (Limit 4)
Use $1/4 Progresso Soup, exp. 11/3/12 (SS 09/09/12)
Final Price: $.54 each when you buy 4
9/21– Coke or Coke Products (2 liter) $0.77 (Limit 4)
9/22– Honey, Multi-Grain or Flavored Cheerios (9-12.9 oz), Lucky Charms or Golden Grahams (11.5 – 12 oz), Cocoa or Reeses Puffs (11.8-13 oz) $1.49 (Limit 2)
Use $1.00 off TWO BOXES of Cheerios cereals
Use $1.00 off 2 General Mills Big G cereals
See more General Mills Cereal coupons
Final Price: $.99 each when you buy 2
9/23– Farm Fresh Boneless Skinless Chicken Breasts or Tenders (3 lb bag) $4.99 (Limit 1)
9/24– Klondike Bars or Sandwiches (4-8ct) $1.88 (Limit 2) (what would you do for one?)
9/25– Betty Crocker Supermoist Cake Mix (15.25 – 16.25 oz) $0.69 (Limit 4)
I know some of you were disappointed with this weeks Daily Deals and the lack of stock.  Please remember that the best deals will go early.  Hopefully, Farm Fresh will stock more this weeks after seeing the demand for some of their specials.
*These deals aren't online yet, but were found on a advertising display by Shopping for Five.