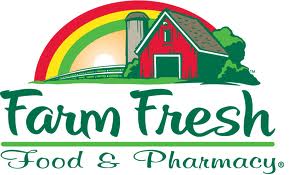 Farm Fresh is having a Mega Coupon Event!  And get this…  It's ALL WEEK (April 18th-24th)!!!!
The matchups below are for regular price items.   The sale ad will be up around midnight tonight.
I tried something new and added a note if the product is cheaper here at Farm Fresh or at Harris Teeter (not the $2 coupons).  PLEASE remember that I could make a mistake (I've been looking at numbers for 4 days) and this is a guide only.  Also, unadvertised deals at Harris Teeter and Farm Fresh sale items are not factored in since I don't have the information yet! Note:  Some of these did change after the FF sale ad went up and HT unadvertised deals.  Good in theory, but too many changes has made it inaccurate.
Don't forget about Harris Teeter Super Doubles.  Lots of shopping excitement this week!
Let me know if you find other deals or have corrections!
Double up to including $2 coupons ALL WEEK
Limit 2 like coupons per transaction.
Limit 20 coupons per person per day.
B1G1 items ring at half price.
Some stores are no longer allowing doubles on coupons that state "Do Not Double".
Present a Military ID for 10% off Farm Fresh family brand products
Bring your reusable shopping bags for $0.05 off per bag
Get the Farm Fresh Coupon Policy
A few other coupons without online prices:
$2/1 Smithfield Ham, exp. 5/31/12 (SS 04/01/12 R)
$2/1 Revlon Face Product, exp. 5/6/12 (SS 04/01/12 R)
$2/1 Gold Bond Ultimate Sheer Ribbons, exp. 6/30/12 (SS 04/01/12)
$2/1 Eucerin Face Care Product printable
$2/1 Advil Congestion Relief, Cold & Sinus or Allergy Sinus printable
$2/1 John Frieda Precision Foam Colour Product, exp. 4/28/12 (SS 03/04/12)
$2/1 Bengay Zero Degrees Gel, exp. 5/31/12 (RP 03/04/12)
$2/1 Precise Product from Tylenol, exp. 5/1/12 (RP 02/19/12)
$2/1 Zarbee's Cough & Sleep Drink printable
$2/1 Nivea for Men Body Wash, exp. 4/29/12 (RP 04/15/12)
$2/1 Hormel Cure 81 Boneless Ham, exp. 5/28/12 (SS 03/25/12)
$2/1 Glade Expressions Oil Diffuser Starter Kit, exp. 4/21/12 (RP 02/19/12) (I think this is one the price is lower online than in-store ???)
$2/1 Keri Lotion, exp. 6/30/12 (SS 04/15/12 #2 R)
$2/1 Alka-Seltzer Plus Product, exp. 4/30/12 (SS 01/29/12)
$2/1 Arm & Hammer Spinbrush printable
$2/1 Febreze Laundry Odor Eliminator printable
This post is part of BeCentsAble's Grocery Gathering and Supermarket Social and Penny Pinching Bargain Bunch