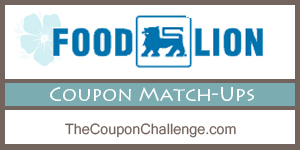 Food Lion Weekly Ad Matchups are done! Please visit the Food Lion coupon matchups page for a complete list of deals! Make sure you are viewing the tab for the correct date.
MVP Card required for sale prices
Make sure to scan your MVP card at the kiosk upon entering the store. You might get a coupon!
Limit ten (10) coupons for the same item per customer
Internet coupon for FREE products are not accepted
See the Food Lion Coupon Policy
New to shopping Food Lion?  Read How to Save Money at Food Lion
Multi-Item Deals
Back to School Savings! Buy $20.00, Get $5.00.
Arm & Hammer Laundry Detergent, 43.75 – 50 oz – $3.00
$1.00/1 Arm & Hammer Laundry Detergent – 8-5-18 SS (exp. 09/01/18)
Final Price: $2.00
General Mills Honey Nut Cheeriors Cereal, 14.9 – 18 oz – B1G1
Selected Varieties
$1.00/2 General Mills Cheerios, Cinnamon Toast Crunch, Lucky Charms, Reese's Peanut Butter Puffs, Chex, Blasted Shreds, Cocoa Puffs, Trix, Cookie Crisp, Golden Grahams, Kix, Fiber One, Wheaties, Raisin Nut Bran, Total, Basic 4, Oatmeal Crisp, Nature Valley Boxed Cereal or Nature Valley Granola
$1.00/2 Big G Cereals – SavingStar eCoupon; Includes Cheerios, Cinnamon Toast Crunch, Lucky Charms, Reese's Puffs, Chex, Blasted Shreds, Cocoa Puffs, Trix, Cookie Crisp, Golden Grahams, Kix, Fiber One, Wheaties, Raisin Nut Bran, Total, Basic 4, Oatmeal Crisp, Nature Valley boxed cereal, or Nature Valley Granola (exp. 08/30/18)

$0.75/2 General Mills Cheerios Boxed Cereal – 7-29-18 SS (exp. 09/08/18)

$1.00/2 General Mills Cheerios Boxed Cereal – 7-29-18 SS (exp. 09/08/18)

$1.00/3 General Mills Boxed Cereal – 7-8-18 SS; Includes Cheerios, Cinnamon Toast Crunch, Lucky Charms, Reese's Puffs, Chex, Blasted Shreds, Cocoa Puffs, Trix, Cookie Crisp, Golden Grahams, Kix, Fiber One, Wheaties, Raisin Nut Bran, Total, Basic4, Oatmeal Crisp, Nature Valley Cereal, or Nature Valley Granola (exp. 08/18/18)

$1.00/3 General Mills Boxed Cereals – 8-12-18 SS; Includes Cheerios, Cinnamon Toast Crunch, Lucky Charms, Reese's Puffs, Chex, Blasted Shreds, Cocoa Puffs, Trix, Cookie Crisp, Golden Grahams, Kix, Fiber One, Wheaties, Raisin Nut Bran, Total, Basic 4, Oatmeal Crisp, Nature Valley Boxed Cereal, or Nature Valley Granola Only (exp. 09/22/18)
Kellogg's Nutri-Grain Bars, 10.4 oz – $2.50
Final Price: $2.00
Nabisco Ritz Crackers, 7.5 – 13.7 oz – B1G1
Limit 2 FreeSelected Varieties
$0.75/2 Nabisco Cookie or Cracker Products – 8-12-18 SS; Includes 3.5 oz or Larger Only (exp. 09/22/18)

$1.00/3 Nabisco Cookie or Cracker Products – 8-12-18 SS; Includes 3.5 oz or Larger (exp. 09/22/18)
Beverages
Mott's Sensible Juice, 64 oz – $2.00
$0.75/1 Mott's Sensibles Juice or Applesauce – 7-22-18 SS (exp. 09/23/18)

$1.00/1 Mott's Sensibles Juice or Applesauce – 7-29-18 SS; Includes: 64 oz bottle, 6 pk 8 oz bottles, 8 pk 6 oz pouches (exp. 09/23/18)
Final Price: $1.00
Breakfast & Cereal
Kellogg's Pop Tarts, 6 – 8 ct – $2.00
Final Price: $1.50
Dairy
Yoplait Yogurt, 4 – 6 oz – $0.50
Final Price: $0.40
Frozen Foods
White Castle Hamburgers, 9.5 – 11 oz – $3.50
$0.55/1 White Castle Microwaveable Sliders – 7-29-18 SS; Includes 4 – 6 ct Only (exp. 09/23/18)

$1.00/2 White Castle Microwaveable Sliders – 7-29-18 SS; Includes 4 – 6 ct Only (exp. 09/23/18)
Final Price: $2.95
Home Supplies
Gain Laundry Detergent, 50 oz – $4.99
Final Price: $2.99
Produce
Peaches, Eastern, per lb – $0.69