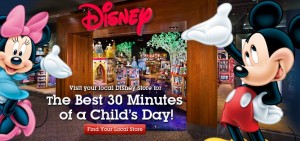 Keep your child entertained and learning without breaking the bank.
Hampton Roads locals – make sure to visit the HR Events page for more activities going on this weekend.
National Events:
Bank of America and Merrill Lynch Carholders: Saturday October 6th and Sunday October 7th
Free Museums On Us days for Bank of America and Merrill Lynch cardholders.  You will find free admission at over 100 participating museums, science centers, zoos, and botanical gardens across the United States!
Disney Store: Friday October 5 at 5:30 and 6:30 pm and Saturday October 6 from 10:30 am – 1:00 pm and 5:30 and 6:30 pm
Calling All Characters: Halloween Dress rehearsale and event.  Come dressed as your favorite character and join the games and parade.
*Minimum age for participation is 3 years. Event limited per session based on store capacity. No lineups prior to 30 minutes before event begins. Event subject to change or cancellation without notice. Call store for more information.
Guitar Center: Saturday October 6th from 10:00 am until 11:00 am
Free Introduction to Pro Tools 10 Workshop
Home Depot: Saturday October 6th 9:00 am until 12:00 pm
Children will create a free fire truck
Kidtoons Films: Various times throughout the weekend
Watch Chuggington – a family friendly movie with a family friendly price!
Lakeshore Learning:  Saturday October 6th from 11:00 am until 3:00 pm
Create a free take note doodle pad.  Be sure to click the link for Lakeshore Learning printable coupons.

Lowes Build and Grow: Saturday October 6th at 10:00 am
Children will create a free Ghoul Bus.  Preregistration is required
Pottery Barn Kids: Saturday October 6th at 10:00 am
Celebrate Star Wars Read Day.  Trivia and giveaways.  Can come dressed in costume as well.
Local Events:
Saturday
Sunday
*All events are FREE unless otherwise noted.