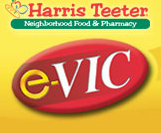 Check your Harris Teeter e-VIC email to see what specials are available to you. E-VIC specials are specific to each household. There are 4 lists below. You can ONLY get the deals from YOUR email list.
What are e-VIC coupons?
E-VIC Coupons are electronic coupons and promotions available to you through the e-VIC program. When you purchase the qualifying products and when your purchase meets the redemption requirements of an e-VIC Coupon, the savings are automatically applied to your order. Paperless coupons will be redeemed for face value only and are limited to 1 usage per transaction. The great part about e-VIC coupons is that you can "stack" these coupons with paper coupons to save even more! You must register onlineto participate in the e-VIC program.

My Email List:
Cottonelle Bath Tissue, 12 Roll, $4.97
Limit 2
$0.75/1 Cottonelle Mega Roll Bathroom Tissue; DND; Includes 6 pk or Larger Only
Final: $3.22
T.G.I. Friday's Appetizers, 7.6-11 oz., 2.47
Limit 4
$1.50/3 TGI Fridays Frozen Snacks; Maximum of 4 Coupons Of Any Kind For The Same Product May Be Redeemed In The Same Shopping Trip
Final: $1.97 each wyb 3
Gaterade, 32 oz., $0.87
Limit 4
Quaker Oatmeal, 9.8 – 12.1 oz., $1.97
Limit 4
$1.00/2 Quaker Old Fashioned, Quick or Instant Oatmeal – 1-10-16 RP (exp 02/29/16)
Final: $1.47
Kraft American Singles, 12 oz., $1.77
Limit 4
Dixie Crystals Sugar, 4 lb., $1.77
Limit 4
$0.40/1 Dixie Crystals Granulated Sugar; Includes 3.4 lb or Larger Only; DND
Final: $1.37
Farmers Market Tree Ripe Peaches or Nectarines, $1.97/lb.
Limit 10 lb.
2nd Email List:
Cottonelle Bath Tissue, 12 Roll, $4.97
Limit 2
$0.75/1 Cottonelle Mega Roll Bathroom Tissue; DND; Includes 6 pk or Larger Only
Final: $3.22
T.G.I. Friday's Appetizers, 7.6-11 oz., 2.47
Limit 4
$1.50/3 TGI Fridays Frozen Snacks; Maximum of 4 Coupons Of Any Kind For The Same Product May Be Redeemed In The Same Shopping Trip
Final: $1.97 each wyb 3
Dixie Crystals Sugar, 4 lb., $1.77
Limit 4
$0.40/1 Dixie Crystals Granulated Sugar; Includes 3.4 lb or Larger Only; DND
Final: $1.37
Kraft American Singles, 12 oz., $1.77
Limit 4
Stouffer's Family Size Entrees, 28 – 40 oz., $5.97
Limit 4
$1.50/1 Stouffer's Family, Large Family, or Party Size Entree – 1-3-16 SS; Includes 25 – 96 oz Only (exp 03/30/16)
Final: $4.47
HT Organics Ice Cream, 16 oz., $1.77
Limit 4
Sweet Earth Breakfast Burrito, 6 oz, $1.47
Limit 4
3rd Email List:
Cottonelle Bath Tissue, 12 Roll, $4.97
Limit 2
$0.75/1 Cottonelle Mega Roll Bathroom Tissue; DND; Includes 6 pk or Larger Only
Final: $3.22
Beringer Wines, 1.5 l, $8.97
Limit 4
T.G.I. Friday's Appetizers, 7.6-11 oz., 2.47
Limit 4
$1.50/3 TGI Fridays Frozen Snacks; Maximum of 4 Coupons Of Any Kind For The Same Product May Be Redeemed In The Same Shopping Trip
Final: $1.97 each wyb 3
Gaterade, 32 oz., $0.87
Limit 4
Dixie Crystals Sugar, 4 lb., $1.77
Limit 4
$0.40/1 Dixie Crystals Granulated Sugar; Includes 3.4 lb or Larger Only; DND
Final: $1.37
Tostitos Salsa, 15 – 15.5 oz., $1.97
Limit 4
HT Burrito Tortilla, 14.33 – 25 oz., $0.97
Limit 4
Lifeway Protein Kefir Drinks, 16 oz., $1.77
Limit 4
$1.00/1 Lifeway Kefir; Includes 32 oz Only
Final: $0.77
Farmers Market Russet Potatoes, 5 lb. $1.77
Limit 4
Final: $1.77
Kasha Heart to Heart Cereal, 12-13.4 oz., $2.47
Limit 4
Final: $2.47
4th Email List:
Cottonelle Bath Tissue, 12 Roll, $4.97
Limit 2
$0.75/1 Cottonelle Mega Roll Bathroom Tissue; DND; Includes 6 pk or Larger Only
Final: $3.22
Quaker Oatmeal, 9.8 – 12.1 oz., $1.97
Limit 4
$1.00/2 Quaker Old Fashioned, Quick or Instant Oatmeal – 1-10-16 RP (exp 02/29/16)
Final: $1.47
Dixie Crystals Sugar, 4 lb., $1.77
Limit 4
$0.40/1 Dixie Crystals Granulated Sugar; Includes 3.4 lb or Larger Only; DND
Final: $1.37
Kraft American Singles, 12 oz., $1.77
Limit 4
Fresh Foods Market Wing Tray, 2 lb., $9.97
Limit 4
HT Burrito Tortilla, 14.33 – 25 oz., $0.97
Limit 4
Sensations Metallic Silverware, 24 ct., $2.97
Limit 4
See more Harris Teeter Weekly Ad Matchups before heading to the store
You might also like: