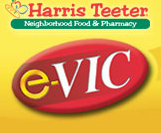 Check your Harris Teeter e-VIC email to see what specials are available to you. E-VIC specials are specific to each household. There are 3 lists below. You can ONLY get the deals from YOUR email list.
What are e-VIC coupons?
E-VIC Coupons are electronic coupons and promotions available to you through the e-VIC program. When you purchase the qualifying products and when your purchase meets the redemption requirements of an e-VIC Coupon, the savings are automatically applied to your order. Paperless coupons will be redeemed for face value only and are limited to 1 usage per transaction. The great part about e-VIC coupons is that you can "stack" these coupons with paper coupons to save even more! You must register online to participate in the e-VIC program.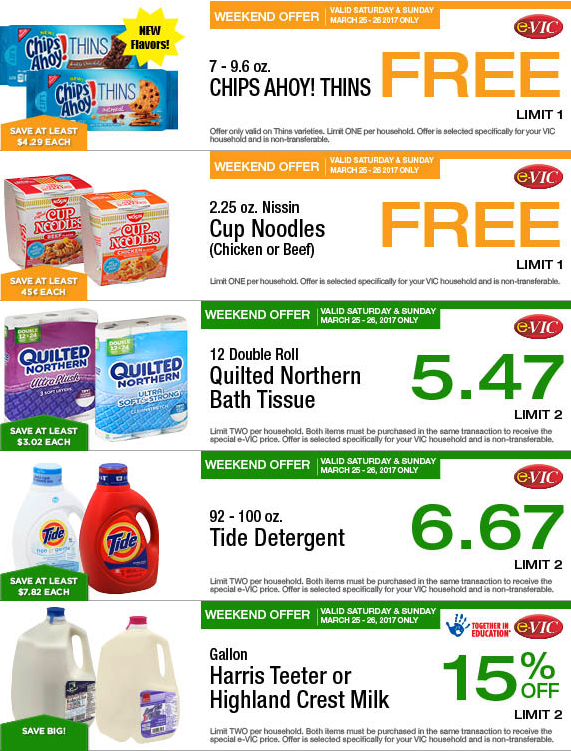 My Email List:
Chips Ahoy! Thins, 7 – 9.6 oz, FREE *Saturday & Sunday Only
Limit 1
Nissin Cup Noodles (Chicken or Beef), 2.25 oz., FREE *Saturday & Sunday Only
Limit 1
Quilted Northern Bath Tissue, 12 Double Roll, $5.47 *Saturday & Sunday Only
Limit 2
$0.50/1 Quilted Northern Bath Tissue; Includes Double Rolls, 6 ct or Higher Only
Final: $4.47
Tide Detergent, 92 – 100 oz., $6.97 *Saturday & Sunday Only
Limit 2
$3.00/3 Tide Detergent, Tide Pods, Downy Unstopables, Bounce Sheets, Bounce Bursts, Gain Fireworks or Dreft Blissfuls in Wash Scent Boosters; Includes Sheets 70 ct or Larger Only; Excludes Trial and Travel Size; Limit of 4 Like Coupons Per Household Per Day
HT or Highland Crest Milk, Gallon, 15% off *Saturday & Sunday Only
Limit 2
HT Hamburger or Hot Dog Buns, 8 ct., $0.77
Limit 4
Florida's Natural Orange Juice, 59 oz., $2.47
$1.00/1 Florida's Natural Fit & Delicious Orange Juice
Limit 4
Cape Cod Thins Potato Chips, 6.75 oz., $1.87
Limit 4
Bomb Pops, 21 oz., $1.97
Limit 4
2nd Email List:
Chips Ahoy! Thins, 7 – 9.6 oz, FREE *Saturday & Sunday Only
Limit 1
Nissin Cup Noodles (Chicken or Beef), 2.25 oz., FREE *Saturday & Sunday Only
Limit 1
Quilted Northern Bath Tissue, 12 Double Roll, $5.47 *Saturday & Sunday Only
Limit 2
$0.50/1 Quilted Northern Bath Tissue; Includes Double Rolls, 6 ct or Higher Only
Final: $4.47
Tide Detergent, 92 – 100 oz., $6.97 *Saturday & Sunday Only
Limit 2
$3.00/3 Tide Detergent, Tide Pods, Downy Unstopables, Bounce Sheets, Bounce Bursts, Gain Fireworks or Dreft Blissfuls in Wash Scent Boosters; Includes Sheets 70 ct or Larger Only; Excludes Trial and Travel Size; Limit of 4 Like Coupons Per Household Per Day
HT or Highland Crest Milk, Gallon, 15% off *Saturday & Sunday Only
Limit 2
HT Hamburger or Hot Dog Buns, 8 ct., $0.77
Limit 4
Florida's Natural Orange Juice, 59 oz., $2.47
$1.00/1 Florida's Natural Fit & Delicious Orange Juice
Limit 4
Cape Cod Thins Potato Chips, 6.75 oz., $1.87
Limit 4
Farmer's Market Russet Potatoes, 5 lb bag, $1.77
Limit 4
HT Organics Deluxe Mac & Cheese, 6 oz., $1.47
Limit 4
HT Lasagna 12 – 16 oz., $1.27
Limit 4
3rd Email List:
Chips Ahoy! Thins, 7 – 9.6 oz, FREE *Saturday & Sunday Only
Limit 1
Nissin Cup Noodles (Chicken or Beef), 2.25 oz., FREE *Saturday & Sunday Only
Limit 1
Quilted Northern Bath Tissue, 12 Double Roll, $5.47 *Saturday & Sunday Only
Limit 2
$0.50/1 Quilted Northern Bath Tissue; Includes Double Rolls, 6 ct or Higher Only
Final: $4.47
Tide Detergent, 92 – 100 oz., $6.97 *Saturday & Sunday Only
Limit 2
$3.00/3 Tide Detergent, Tide Pods, Downy Unstopables, Bounce Sheets, Bounce Bursts, Gain Fireworks or Dreft Blissfuls in Wash Scent Boosters; Includes Sheets 70 ct or Larger Only; Excludes Trial and Travel Size; Limit of 4 Like Coupons Per Household Per Day
HT or Highland Crest Milk, Gallon, 15% off *Saturday & Sunday Only
Limit 2
HT Hamburger or Hot Dog Buns, 8 ct., $0.77
Limit 4
Florida's Natural Orange Juice, 59 oz., $2.47
$1.00/1 Florida's Natural Fit & Delicious Orange Juice
Limit 4
Cape Cod Thins Potato Chips, 6.75 oz., $1.87
Limit 4
Celentano Ravioli, 12 oz., $2.47
Limit 4
$1.00/1 Celentano Product – 1-22-17 SS; DND (exp 03/31/17)
Final: $1.47
HT Organics Frozen Waffles, 6 ct., $1.77
Limit 4
Coppertone Sunscreen Spray, Twin Pack, $9.97
Limit 4
$1.00/1 Coppertone Product; Includes 3 oz or Larger Only; Limit 4 Exact Same Coupons Per Household Per Day
Final: $8.97
See more Harris Teeter Weekly Ad Matchups before heading to the store
You might also like: