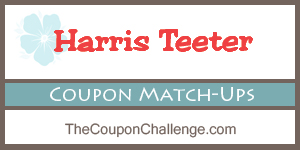 Harris Teeter Coupon Matchups are done! Please visit the new Harris Teeter coupon matchups page for a complete list of deals! Make sure you are viewing the tab for the correct date. Let me know what else you find or if you have corrections!
Double coupons up to and including $0.99 everyday.
Limit 20 coupons per day.
Limit 3 like coupons per transaction, 3 like internet printables per transaction.
VIC Card required for sale prices and double/triple coupons.
No internet printable coupons accepted for "FREE" items or B1G1 Free items.
B1G1 items ring at half price.
"No orders may be separated that would allow the 20 coupon limit to be exceeded or any other coupon limits to be exceeded".
Don't forget to check your Harris Teeter e-VIC coupons and load them onto your card.
Get the Harris Teeter Coupon Policy.
New to shopping Harris Teeter? Read my post on How to Save Money at Harris Teeter!
B1G1
Barber Entrees, 8 – 10 oz – $5.51 – B1G1
Final Price: $2.75
Dixie Crystals Sugar, 4 lb – $3.59 – B1G1
$0.55/1 Dixie Crystals Granulated Sugar or Brown or Powdered Sugar – 10-7-18 SS; Includes Granulated, 4 lb or Poly Bag, 2 lb Only (exp. 11/18/18)
Final Price: $0.69
Fisher Walnut Halves or Pieces, 10 oz – $6.49 – B1G1
$0.55/1 Fisher Recipe Nut Items – 11-11-18 SS; Includes 10 oz or Larger (exp. 12/31/18)
Final Price: $2.14
Purina Dog Chow, 16 – 18 lb – $17.99 – B1G1
Final Price: $4.99
Wewalka Pie Crust, 7.8 – 14.1 oz – $3.29 – B1G1
$1.00/1 WeWalka Pie or Pastry Dough – 11-4-18 SS (exp. 12/31/18)
Final Price: $0.64
Breakfast & Cereal
Quaker Oatmeal, 12.1 oz – $3.00
$1.00/2 Quaker Old Fashioned, Quick or Instant Oats, or Oatmeal Square Cereal – 10-14-18 RMN (exp. 11/25/18)
Final Price: $2.50
Dairy
Nellie's Free Range Large Eggs, 12 ct – $3.49
Final Price: $1.99
use $1.50/1 coupon
Refrigerated
Pillsbury Crescents or Cinnamon Rolls, 8 – 13.9 oz – $2.00
$1.00/3 Pillsbury Refrigerated Baked Goods Products – 10-21-18 SS (exp. 01/12/19)
Final Price: $1.40
use $0.30/1 coupon