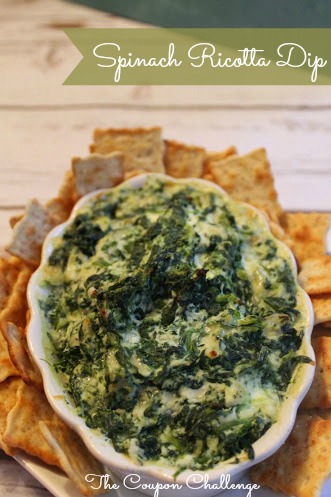 Each week I plan out my meals based on the sale ads, and many times I end up with a lot of left over products, like ricotta cheese. I use it whenever I make lasagna, but I don't use the entire container.    Instead of wasting the last of the ricotta, I make this awesome yummy Spinach Ricotta Dip for the family to munch on while I make dinner or to enjoy on a lazy Sunday afternoon.
Sometimes leftovers in the refrigerator turn out to be the best tasting meal, besides just being a great way to use up leftover ingredients. This Homemade Yummy Spinach Ricotta Dip Recipe is a delicious hot dip to bring out for a crowd while watching a football game, to serve at your next bridal or baby shower, or even at brunch.
Loads of flavor and texture make it perfect for dipping chips or to spread on a buttery cracker.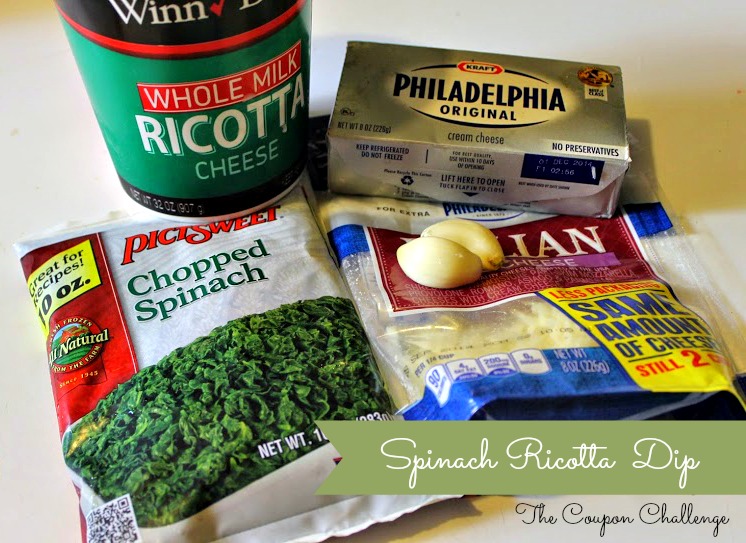 Ingredients
1 cup Ricotta
4 oz. cream cheese
8-10 oz. frozen spinach
1 cup shredded mozzarella
2 cloves garlic, crushed
salt and pepper to taste
Directions:
Thaw frozen spinach completely.

Combine ricotta, cream cheese, spinach, mozzarella, garlic, salt and pepper until thoroughly mixed, if desired place in mixer or food processor to make it a more smooth.

Place mixture in an oven safe dish and bake at 350° for 20 minutes or until top is golden and creamy texture.
Brown and dip is heated throughout.
Serve with tortilla chips, pretzels, or crackers.
Try spreading in a tortilla to roll up.
Do you have a favorite Spinach Ricotta Dip Recipe?  What are your best recipes to use leftover ingredients?
You might also like the Loaded Cream Cheese Dip Recipe or Homemade Pretzel Bites Recipe with Beer Cheese Dip!