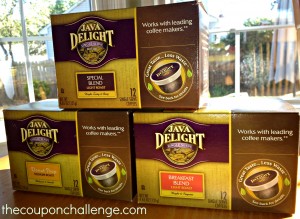 If you have a Keurig, you know how expensive K-Cups can be.  Not only do K-cups stretch the budget, they are adding more waste to landfills.  Now I admit, I love my Keurig.  It just makes my life easy especially since my husband and I are up at different times drinking coffee.
SUPERVALU has been busy developing a private label Java Delight UnCups™. They wanted to bring customers single-use coffee pods, but make them more environmentally-friendly. Java Delight UnCups are made with 30 percent less material by weight than leading national brand pods. Even the cardboard is 100% recyclable, and the inner packaging bag is made with corn resin.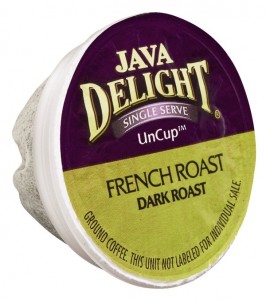 You can definitely see a difference in the Uncups vs the standard K-cups just by opening the box.  First, the UnCups are in a bag instead of just a box.   In order to maintain freshness, it is suggested that you don't put UnCups on a carousal. The mesh in the UnCup is susceptible to outside aromas.  My husband  believes that the mesh allows for a stronger cup of coffee than standard K-cups.  This is a HUGE bonus for him.  We both enjoyed the taste of the Special Roast and Donut Shop.  I honestly believe the flavor is just as good as (if not better than) leading K-Cups manufactures.
You can choose from six varieties of the new UnCup including: French Roast, Decaf French Roast, Breakfast Blend, Donut Shop, 100% Colombia Supremo, and Special Blend.   Java Delight is available at all SUPERVALU banners, including Albertsons, Cub Foods, Jewel-Osco, Shop 'n Save, Hornbacher's, ACME, Shaw's, SHOPPERS, Farm Fresh, as well as other retailers across the country.
Disclosure:  I received 3 boxes of Java Delight UnCups to facilitate my review.  No other compensation was received.  All opinions are 100% my own and may differ from others.