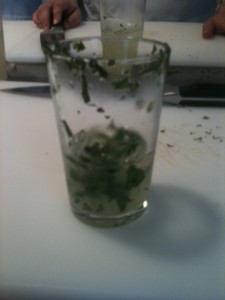 I mentioned last week that I was in New York for the SUPERVALU Essential Foods for Every Season Event.  I had an incredible time meeting with the SUPERVALU team, tasting Essential Everyday products (the new "generic" brand for SUPERVALU stores such as my local Farm Fresh) and hanging out with other bloggers from across the United States.
While in New York, we headed to "Home Cooking New York" for dinner.  This was my first experience at a Home Cooking party.  To be honest,  I was a bit apprehensive.  First, I am only a mediocre cook. Second, I was cooking in front of/with a group of mostly strangers.  It turned out to be a wonderful experience!  Stepping out of my comfort zone is a good thing!!!     It was a great way to get to know the other members of the group and to learn a few cooking tips.  For instance, I have been using my knife wrong for years!!!
I have a ton of recipes to share with you over the coming days.  First up was our beverage, Mock Mojitos.  This yummy drink can be substituted with alcohol if you prefer.
Mock Mojitos
Active Time:   10 minutes
Total Time:  10 minutes
Amount:   4 servings
Ingredients:
1 (0.75 ounce) package mint leaves, stems removed
2 tablespoons Essential Everyday™ Granulated Sugar
3 cups reconstituted Essential Everyday Frozen Limeade
1½ cups Super Chill® Club Soda
– ice cubes
Directions:
Roughly chop mint leaves and place in a 2-quart pitcher; add sugar.
Using a muddler or spatula, vigorously press mint and sugar together until well combined (muddling).
Add in limeade and club soda; stir to combine.  Fill pitcher with ice; stir.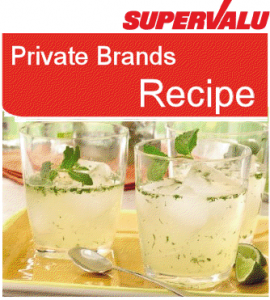 See More Recipes from my #EEinNYC Trip:
~Mock Mojitos Recipe
Shrimp Tacos with Mango Avocado Salsa Recipe
Veggie Pita Pizza Snacks Recipe
Edamame & Spinach Dip Recipe
Watermelon & Prosciutto Salad Recipe
Bacon, Cheddar & Apple Panini Recipe
Snickerdoodle Peach Ice Cream Sandwiches Recipe
*Top picture courtesy of A Frugal Chick since I completely forgot to take my own!
**All recipes were developed by Genie Nicholas, SUPERVALU's culinary manager.